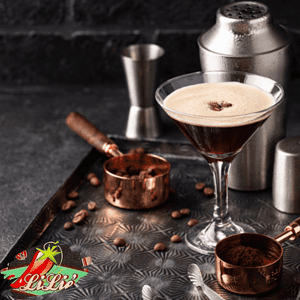 Espresso Martini
Espres­so Mar­ti­ni! Een kof­fie­cock­tail met espres­so, wod­ka en kah­lua. Het is de ide­a­le oppep­per en ultie­me cock­tail voor koffieliefhebbers.
Materiaal — Benodigdheden
Instructies
40 ml Wod­ka,

20 ml Kah­lua,

20 ml espres­so kof­fie,

5 ijs­blok­jes

Schud 30 secon­den krachtig.

Schenk dan, met behulp van de strai­ner, uit in een mar­t­i­ni­glas. (De ijs­blok­jes mogen niet mee in het glas.)

Zorg dat het schuim mee­komt naar het glas, des­noods schraap je het uit de shaker.

Je espres­so mar­ti­ni is klaar!

Ser­veer onmiddellijk.
Notities
Espresso martini.
Als schaam­te­lo­ze kof­fie­ver­slaaf­de is dit een van mijn favo­rie­te cock­tails. Gemaakt met espres­so, wod­ka en Kah­lua is de cock­tail een lek­ker maar ook 'gevaar­lijk' goed. Drink dus met mate!

INFO EN TIPS:
Koel de kof­fie zodat het ijs niet smelt in je sha­ker. Indien je war­me espres­so zou gebrui­ken smel­ten de ijs­blok­jes en is je espres­so mar­ti­ni om zeep!
Gebruik espres­so­kof­fie uit een goe­de espres­so­ma­chi­ne! Dit geeft een mooi schuim op de kof­fie, met als gevolg een mooie schuim­laag op je cocktail!
Indien je instant kof­fie, kof­fie van pads of cap­su­les gebruikt krijg je de nodi­ge schuim­laag niet. Je hebt een goe­de machi­ne nodig.
Toch weet ik dat velen onder ons geen espres­so­ma­chi­ne in huis heb­ben, dus ik ben gaan zoe­ken naar een manier om een beet­je 'vals' te spe­len.
Je kan een half eiwit toe­voe­gen aan je sha­ker. Dit eiwit zal er voor zor­gen dat je toch een prach­ti­ge schuim­laag krijgt, zon­der de smaak te beïn­vloe­den. Het schuim is immers nodig om je kof­fie­bo­nen te laten drij­ven op je espres­so martini.
Ser­veer deze cock­tail op zich­zelf, maar hij gaat ook goed samen met cho­co­la­de cake of tira­mi­su!
Ben je op zoek naar de bes­te kof­fie? Bonen, voor­ge­ma­len, pads of cups? Onze part­ner 'Ver­se Maling' kan je hier­mee hel­pen. Top­kof­fie gele­verd aan huis. 10% kor­ting bij je eer­ste bestelling!
Wil je meer weten over kof­fie? Klik hier!
Zin in meer cock­tails? Bloody mary, cai­pir­in­ha, dry mar­ti­ni, porn­star mar­ti­ni, limon­cel­lo tonic, … en meer kan je terug­vin­den in onze recep­ten­bun­del!
Wat is Kahlua?
Kah­lua is een likeur met kof­fies­maak afkom­stig uit de Ver­a­cruz regio in Mexi­co. Het is een dun­ne, zoe­te siroop. De drank is bruin van kleur. Naast de vol­le smaak van Ara­bi­ca kof­fie­bo­nen zul je ook aan­ge­na­me toet­sen van cho­co­la­de terug­vin­den. Dit maakt dat de likeur goed op zich­zelf, in de kof­fie, in cock­tails of bij des­serts werkt. Kah­lua heeft dus de kof­fies­maak die nodig is voor een gewel­di­ge Espres­so Mar­ti­ni! Ook lek­ker indien het geschon­ken wordt, puur over ijs.
Onze recep­ten­bun­del wer­den moge­lijk gemaakt door soft­wa­re van Boot­strap­ped Ventures.

Heb je dit recept zelf gepro­beerd? Of heb je een vraag of opmer­king over het recept? Laat dan een reac­tie ach­ter hier­on­der of deel het op je soci­al media.
Mis­schien heb je zelf een recept wat u met ons en onze lezers wil delen.
Voeg het dan hier toe!

HONGER NAAR MEER? Abon­neer je op onze nieuws­brief en volg ons op you­tu­be, Facebook, Pin­te­rest en Inst­agram voor alle laat­ste updates.
Espres­so mar­ti­ni! Indien je zowel een kof­fie als cock­tail­lief­heb­ber bent, niet twij­fe­len! Pro­beer het eens!
Voedingswaarde :
Nutri­ti­on Facts
Espres­so Martini
Ser­ving Size
1 cock­tail
Amount per Serving
% Dai­ly Value*
* Per­cent Dai­ly Valu­es are based on a 2000 calo­rie diet.