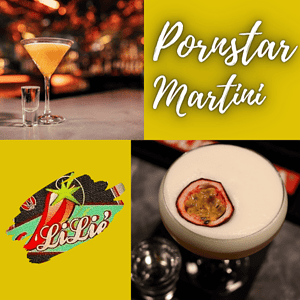 pornstar martini
Dit Porn­star mar­ti­ni recept is zoet en zuur. Visu­eel opwin­dend met een schui­mi­ge top en een drij­ven­de hal­ve pas­sie­vrucht. Geser­veerd met een glaas­je pro­sec­co ernaast is dit een cock­tail die zeker indruk maakt!
Materiaal — Benodigdheden
Instructies
50 ml Pas­soa,

50 ml Vod­ka,

15 ml Vanillesiroop

Voeg nu vers limoen­sap toe, , gevolgd door het passievruchtensap.

25 ml vers Limoen­sap,

50 ml Pas­sie­vruch­ten­pu­ree,

50 ml Passievruchtensap

Sluit ver­vol­gens het dek­sel van je sha­ker en schud krach­tig gedu­ren­de onge­veer 30 seconden.

Neem ver­vol­gens je strai­ner en zeef de vloei­stof in je cock­tail­glas

Leg voor­zich­tig een hal­ve ver­se pas­sie­vrucht op je porn­star martini.

Giet een bor­rel­glaas­je pro­sec­co in een gekoeld bor­rel­glas.

50 ml Pro­sec­co in een bor­rel­glas voor bij de cocktail

Je porn­star mar­ti­ni is klaar! Enjoy!
Notities
Pornstar Martini
De porn­star mar­ti­ni cock­tail is zoet en zuur tege­lijk. De pas­sie­vrucht speelt hier een hoofd­rol! Als je geen fan bent van een tra­di­ti­o­ne­le mar­ti­ni (met gin), pro­beer dan dit sma­ke­lij­ke alternatief.
INFO EN TIPS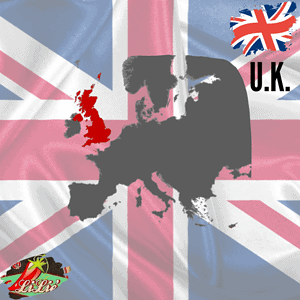 In cock­tail­ter­men is dit porn­star mar­ti­ni recept een rela­tie­ve nieuw­ko­mer, maar toch wordt de cock­tail nu al een 'moder­ne klas­sie­ker' genoemd.
Hij werd in 1999 uit­ge­von­den door Dou­g­las Ankrah, die eige­naar was van de popu­lai­re Lon­den­se 'The Town­hou­se' bar.
Van­we­ge de con­tro­ver­si­ë­le naam hoor je deze popu­lai­re cock­tail vaak aan­ge­duid als een 'pas­si­on star mar­ti­ni' of een 'mave­rick martini'.
In tegen­stel­ling tot wat de naam doet ver­moe­den, heeft deze cock­tail niet veel gemeen met een klas­sie­ke Martini.
In dit recept gebrui­ken we een glaas­je ijs­ge­koel­de pro­sec­co, maar indien je het nog wat wil 'uplif­ten', ser­veer er dan een glaas­je cham­pag­ne bij!

Al snel na de uit­vin­ding werd deze weel­de­ri­ge cock­tail een vas­te waar­de in bars in het Ver­e­nigd Konink­rijk. In 2018 was het naar ver­luidt de meest popu­lai­re cock­tail in Groot-Brittannië.

Deze cock­tail wordt meest­al geser­veerd in een cou­pe of een mar­t­i­ni­glas en wordt gegar­neerd met een hal­ve ver­se passievrucht.
Pro­sec­co of cham­pag­ne wordt geser­veerd in een bor­rel­glas, en de drank­jes moe­ten om en om wor­den genipt.
Onze recep­ten­bun­del wer­den moge­lijk gemaakt door soft­wa­re van Boot­strap­ped Ventures.

Heb je dit recept zelf gepro­beerd? Of heb je een vraag of opmer­king over het recept? Laat dan een reac­tie ach­ter hier­on­der of deel het op je soci­al media.
Mis­schien heb je zelf een recept wat u met ons en onze lezers wil delen.
Voeg het dan hier toe!
HONGER NAAR MEER? Abon­neer je op onze nieuws­brief en volg ons op you­tu­be, Facebook, Pin­te­rest en Inst­agram voor alle laat­ste updates.
Porn­star mar­ti­ni is een heer­lij­ke cock­tail die je het hele jaar door kan drin­ken! Pro­beer hem!