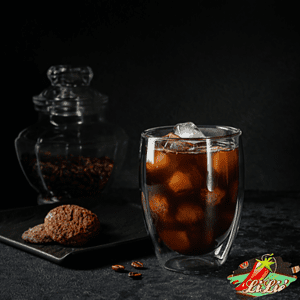 Iced Americano
Iced Ame­ri­ca­no : een ver­fris­sen­de wake-up call! Dub­be­le espres­so, ijs en water, per­fect voor dege­nen die hou­den van een krach­ti­ge, maar toch ver­fris­sen­de koffie-ervaring.
Materiaal — Benodigdheden
Ingrediënten
1

dub­be­le

espres­so

(kan ver­van­gen wor­den door oplos­kof­fie indien gewenst. Maak de kof­fie zo sterk als je zelf wil)

wat

ijs­blok­jes

10

ml

sui­ker­si­roop

opti­o­neel (meer of min­der naar smaak)

wat

ijs­koud water
Instructies
We maken een Iced Americano!

Giet je hete espres­so zacht­jes over de ijs­blok­jes in het glas.

Vul het glas aan met ijs­ge­koeld water.

Roer alles heel goed door met een barlepel!

Je iced ame­ri­ca­no is klaar!
Video
Notities
Americano koffie
Nood aan cafe­ï­ne? Een ver­fris­sing om je dag te begin­nen? Maak een Iced ame­ri­ca­no in no time! Een heer­lijk rij­ke iced cof­fee met diep­te en nuan­ce. Wil je een extra boost? Voeg dan een een extra shot espres­so toe!
Wat is een Iced Americano?
Een Iced Ame­ri­ca­no is een shot espres­so (of een dub­be­le) die gego­ten wordt over ijs­blok­jes en aan­ge­lengd met ijs­ge­koeld water. Het resul­taat is een ver­fris­sen­de kof­fie om je dag mee te begin­nen. Voor een inten­se­re erva­ring kan je het water ook weg­la­ten mits de ijs­blok­jes smel­ten door de hete espres­so en zo je kof­fie verdunnen.
Wat is het verschil tussen gewone koffie en Americano?
Een ame­ri­ca­no is een espres­so, aan­ge­lengd met een even gro­te hoe­veel­heid heet water. Hier­door wordt de kof­fie min­der sterk en qua smaak lijkt het meer op een fil­ter kof­fie. Voor een Iced ame­ri­ca­no gebrui­ken we dus geen heet water, maar water dat ijs­ge­koeld is.
Meer weten over kof­fie?

Koffie…zintuigelijk genot en een oppep­per van formaat!
Kof­fie is een van de popu­lair­ste dran­ken ter wereld, en wordt al sinds de oud­heid door men­sen gedron­ken. Onder­tus­sen weten we dat er ver­schil­len­de soor­ten zijn en dat ze van­daag aan­ge­bo­den wor­den aller­lei vor­men. Zowel de boon als de uit­ein­de­lij­ke drank wor­den puur gebruikt, maar kof­fie komt ook terug in vele gerech­ten, mari­na­des en afge­lei­de dranken.
liliesfood.be
INFO EN TIPS
We maken de Iced Ame­ri­ca­no wat zoe­ter met sui­ker­si­roop : Deze kan je mak­ke­lijk zelf maken door dezelf­de hoe­veel­heid sui­ker en water even op te koken in een steel­pan. Laat het geheel afkoe­len, giet over in een afsluit­ba­re fles en bewaar in je koel­kast. Gou­den tip! Enke­le drup­pels citroen­sap in je sui­ker­wa­ter en je sui­ker­si­roop is tot 6 maan­den houd­baar in de koel­kast. Ons stap voor stap recept met video kan je terug­vin­den in onze bundel.
Er bestaan tegen­woor­dig ook tal­lo­ze kof­fie­si­ro­pen. Gaan­de van aman­del tot kaneel. De moge­lijk­he­den zijn onein­dig. Het merk is zeer gekend voor deze siro­pen. Je kan ze sim­pel­weg toe­voe­gen alvo­rens je de kof­fie roert met het ijs.
Meer weten over Iced Cof­fee?
Ook ande­re kof­fies kan je terug­vin­den in onze recep­ten! Café Frap­pé en een regu­lar iced cof­fee zijn onze favorieten!

Onze recep­ten­bun­del werd moge­lijk gemaakt door soft­wa­re van Boot­strap­ped Ventures.

Heb je dit recept zelf gepro­beerd? Of heb je een vraag of opmer­king over het recept? Laat dan een reac­tie ach­ter hieronder!
Deel het gerust op je soci­al media en tag ons!.
Mis­schien heb je zelf een recept wat u met ons en onze lezers wil delen.
Voeg het dan hier toe!
HONGER NAAR MEER? Abon­neer je op onze nieuws­brief en volg ons op you­tu­be, Tik­Tok, Facebook, Pin­te­rest en Inst­agram voor alle laat­ste updates.
Iced Ame­ri­ca­no! Geef jezelf een Boost met deze sim­pe­le maar heer­lij­ke ver­fris­sen­de koffie!
Voedingswaarde :
Nutri­ti­on Facts
Iced Ame­ri­ca­no
Amount per Serving
% Dai­ly Value*
* Per­cent Dai­ly Valu­es are based on a 2000 calo­rie diet.