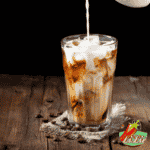 Iced coffee - de snelle, perfecte versie!
De perfecte Iced Coffee! Dit recept is snel, makkelijk, budgetvriendelijk, en smaakt net als bij de gourmet-koffieshops. Misschien wel beter!
Materiaal en benodigdheden
Ingrediënten
Voor de Vanille-siroop
100

g

suiker

25

cl

water

½

tl

vanille-extract

(gebruik een Bio-versie, geen chemisch spul!)
Instructies
Voor de vanille siroop
Meng de suiker en het water in een middelgrote sauspan op een matig vuur.

100 g suiker,

25 cl water

Roer tot de suiker is opgelost.

Laat volledig afkoelen!!!

Roer het vanille-extract erdoor.

Zet opzij in de koelkast tot je het gaat gebruiken.

tip : indien je meer vanillesiroop wil maken kan dit! Doe de siroop in een goed afsluitbare fles in de koeling, dan is hij tot een half jaar houdbaar!
Maak je Iced Coffee
Neem een groot koffieglas en vul het met ijsblokjes.

Giet je koffie over het ijs, gevolgd door de koffiemelk.

1 kop koffie,

2 cups echte koffiemelk

Voeg dan 1 theelepel vanillesiroop toe (of meer naar smaak).

Geniet van je Iced coffee!
Notities
Iced coffee - de snelle, perfecte versie!
Dit is een recept/variant dat ik zelf altijd gebruik. Heerlijk van smaak!

In het begin zal je even moeten zoeken naar je juiste verhouding, maar probeer tot je een eigen versie hebt waar jezelf tevreden mee bent. Minder of meer koffiemelk, minder of meer siroop, welke koffie je gebruikt en hoe sterk je de koffie maakt...het hangt af van je persoonlijke voorkeur.
Als je de vanillesiroop klaar hebt dan is deze iced coffee in een wip gemaakt.
Onze receptenbundel werd mogelijk gemaakt door software van Bootstrapped Ventures.

Heb je dit recept zelf geprobeerd? Of heb je een vraag of opmerking over het recept? Laat dan een reactie achter hieronder en beoordeel het met wat sterren.
Misschien heb je zelf een recept voor iced coffee wat u met ons en onze lezers wil delen.
Voeg het dan hier toe!
HONGER NAAR MEER? Abonneer je op onze nieuwsbrief en volg ons op Facebook, Pinterest en Instagram voor alle laatste updates.
Iced coffee - de snelle, perfecte versie! Maak hem vandaag nog!
Voedingswaarde :
Nutrition Facts
Iced coffee - de snelle, perfecte versie!
Amount per Serving
% Daily Value*
* Percent Daily Values are based on a 2000 calorie diet.
Copyright ©Liliesfood
DISCLOSURE: Sommige van de links hier zijn affiliate links. Deze helpen mij bij het maken en onderhouden van onze website en sociale kanalen.