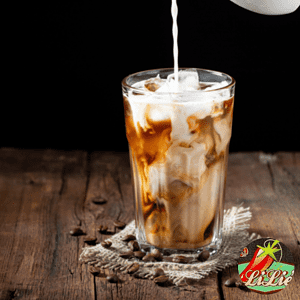 Iced coffee — de snelle, perfecte versie!
De per­fec­te Iced Cof­fee! Dit recept is snel, mak­ke­lijk, bud­get­vrien­de­lijk, en smaakt net als bij de gour­met-kof­fie­shops. Mis­schien wel beter!
Materiaal — Benodigdheden
Ingrediënten
Voor de Vanille-siroop
100

g

sui­ker

25

cl

water

½

tl

vanil­le-extract

(gebruik een Bio-ver­sie, geen che­misch spul!)
Instructies
Voor de vanille siroop
Meng de sui­ker en het water in een mid­del­gro­te saus­pan op een matig vuur.

100 g sui­ker,

25 cl water

Roer tot de sui­ker is opgelost.

Laat vol­le­dig afkoelen!!!

Roer het vanil­le-extract erdoor.

Zet opzij in de koel­kast tot je het gaat gebruiken.

tip : indien je meer vanil­le­si­roop wil maken kan dit! Doe de siroop in een goed afsluit­ba­re fles in de koe­ling, dan is hij tot een half jaar houdbaar!
Maak je Iced Coffee
Neem een groot kof­fieglas en vul het met ijsblokjes.

Giet je kof­fie over het ijs, gevolgd door de koffiemelk.

1 kop kof­fie,

2 cups ech­te koffiemelk

Voeg dan 1 thee­le­pel vanil­le­si­roop toe (of meer naar smaak).

Geniet van je Iced coffee!
Notities
Iced coffee — de snelle, perfecte versie!
Dit is een recept/variant dat ik zelf altijd gebruik. Heer­lijk van smaak!

In het begin zal je even moe­ten zoe­ken naar je juis­te ver­hou­ding, maar pro­beer tot je een eigen ver­sie hebt waar jezelf tevre­den mee bent. Min­der of meer kof­fie­melk, min­der of meer siroop, wel­ke kof­fie je gebruikt en hoe sterk je de kof­fie maakt…het hangt af van je per­soon­lij­ke voorkeur.
Als je de vanil­le­si­roop klaar hebt dan is deze iced cof­fee in een wip gemaakt.
Onze recep­ten­bun­del werd moge­lijk gemaakt door soft­wa­re van Boot­strap­ped Ventures.

Heb je dit recept zelf gepro­beerd? Of heb je een vraag of opmer­king over het recept? Laat dan een reac­tie ach­ter hier­on­der en beoor­deel het met wat sterren.
Mis­schien heb je zelf een recept voor iced cof­fee wat u met ons en onze lezers wil delen.
Voeg het dan hier toe!
HONGER NAAR MEER? Abon­neer je op onze nieuws­brief en volg ons op Facebook, Pin­te­rest en Inst­agram voor alle laat­ste updates.
Iced cof­fee — de snel­le, per­fec­te ver­sie! Maak hem van­daag nog!