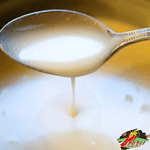 Vissaus.
Deze vissaus is een basissaus die je puur kan gebruiken of verder kan afwerken naar believen. Je kan vissaus maken bij allerhande visgerechten, maar ook bij pasta of asperges is dit een winnaar!
Materiaal en benodigdheden
Ingrediënten
1

el

roomboter

1

sjalot

½

stengel

selder

1

tl

dragon

gesnipperd (vers of gedroogd)

1

blaadje

laurier

50

cl

visfumet

25

cl

culinaire room

(35% vetgehalte)

1

kwartje

citroen

(het sap)
Instructies
We gaan een vissaus maken!

1 sjalot,

1/2 stengel selder

Smelt de boter in een sauspan op een zacht vuur.

Stoof de sjalot en de selder zachtjes aan in de boter.

Voeg het laurierblaadje en de gesnipperde dragon toe en roer onder elkaar.

1 tl dragon,

1 blaadje laurier

Laat het geheel inkoken tot de helft.

Voeg nu je koude culinaire room toe.

Breng opnieuw aan de kook en laat inkoken op een zacht vuur tot sausdikte.

Proef, en indien nodig kruid af met wat peper en zout naar smaak.

Knijp een kwartje van een citroen er in uit voor extra frisheid.

Zet terug op het vuur en kook heel kort even op.

Je vissaus is klaar voor gebruik of om verder af te werken.
Video
Notities
Vissaus.
Met dit recept voor vissaus kan je alle kanten uit. Lekker zoals ze is, maar naar afwerking kan je er veel mee.

INFO EN TIPS
Als basis voor de saus gebruik je visfumet. Dit is belangrijk want met de kwaliteit van je visfumet maak of kraak je de vissaus!
Ook benieuwd hoe je verse vis best aankoopt of bewaard?
Eigenlijk heb je met deze saus te maken al een witte wijnsaus. Omdat de visfumet (op klassieke wijze gemaakt) al witte wijn bevat. Wil je nu graag echt een witte wijsaus op tafel zetten, voeg dan 25cl toe samen met de visfumet alvorens in te koken.
Vissaus voor zalm, vissaus voor kabeljauw, vissaus voor garnalen. Deze saus is een alleskunner. Werk ze bijvoorbeeld af met wat vers gesnipperde kruiden. Bieslook of dille passen enorm goed bij alle soorten vis.
Ook kan je een brunoise van groentjes aanstoven en als garnituur toevoegen aan de saus. Lekker!
Fan van vis en zeevruchten? Misschien is een vispannetje iets voor jou? Onze receptenbundel werden mogelijk gemaakt door software van Bootstrapped Ventures.

 

Bootstrapped Ventures

 

Heb je dit recept zelf geprobeerd? Of heb je een vraag of opmerking over het recept? Laat dan een reactie achter hieronder! Indien we kunnen helpen doen we dit graag! Deel het gerust op je social media en tag ons!. Misschien heb je zelf een recept wat u met ons en onze lezers wil delen. Voeg het dan hier toe! HONGER NAAR MEER? Abonneer je op onze nieuwsbrief en volg ons op youtube, TikTok, Facebook, Pinterest en Instagram voor alle laatste updates.
Vissaus is dus absoluut niet moeilijk om te maken!
Voedingswaarde :
Nutrition Facts
Vissaus.
Amount per Serving
% Daily Value*
* Percent Daily Values are based on a 2000 calorie diet.
Copyright ©Liliesfood
DISCLOSURE: Sommige van de links hier zijn affiliate links. Deze helpen ons bij het maken en onderhouden van onze website en sociale kanalen. Voor meer info kan u alles nalezen op onze affiliate disclosure pagina.