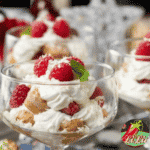 Tiramisu met limoncello
Materiaal en benodigdheden
Ingrediënten
1

citroen

100

g

verse frambozen

(of aardbeien, bosbessen, ...)

4

takjes munt

75

ml

zelfgemaakte limoncello

250

g

mascarpone

3

eieren

150

g

fijne suiker

delen in 3 keer 50gr.

50

g

witte chocoladeschilfers

(kan je zelf raspen van een blok witte chocolade.)

1

pak savoiardi koekjes

(lange vingers)
Instructies
Pers het sap van de citroen.

Doe samen in een steelpannetje en voeg 50 g suiker en de limoncello toe.

Warm op en klop erdoor met een garde tot de suiker is opgelost.

Laat afkoelen!

Scheid de eieren.

Klop de eidooiers op met 50 g suiker.

Klop deze heel goed tot een ruban (tot je een wit lint krijgt, de suiker moet volledig opgelost zijn!)

Klop er de mascarpone en de helft van de afgekoelde limoncellosiroop door.

Klop de eiwitten half op.

Voeg dan 50 g suiker toe en klop helemaal stijf.

Spatel het eiwit door het mascarpone-mengsel.

Doop de lange vingers in de rest van de limoncellosiroop.

Bouw de tiramisu op in verschillende laagjes van lange vingers en het mascarpone-mengsel.

Laat minstens 2 uur, maar liefst een nacht opstijven in de koelkast.

Zo kunnen de smaken zich goed vermengen.

Werk de tiramisu af met geraspte witte chocolade, frambozen (of ander fruit) en een blaadje munt.

Optioneel kan je er nog wat citroenschil over raspen.

Serveer.
Notities
Tiramisu met limoncello
Het is eens iets anders dan een klassieke tiramisu! Frisser, luchtiger maar even lekker!
Tips en Info
Limoncello is de dag van vandaag niet meer weg te denken in onze keuken. De drank is zo populair en wordt daarom ook verwerkt in tal van desserts. Waaronder deze tiramisu dus.
Heb je liever de originele tiramisu? Klik hier!
Wil je meer weten over limoncello? Klik hier!
Een tip voor als je iets wil drinken bij deze tiramisu is om eens een wijn te proberen. Heerlijk bij desserts, en het is eens wat anders dan koffie.
Onze receptenbundel werd mogelijk gemaakt door software van Bootstrapped Ventures.

Heb je dit recept zelf geprobeerd? Of heb je een vraag of opmerking over het recept? Laat dan een reactie achter hieronder en beoordeel het met wat sterren.
Misschien heb je zelf een recept of een variant ervan? Wil je dit met ons en onze lezers delen?
Voeg het dan hier toe!
HONGER NAAR MEER? Abonneer je op onze nieuwsbrief en volg ons op Facebook, Pinterest en Instagram voor alle laatste updates.
Tiramisu met limoncello! Verras je gasten of jezelf met dit heerlijke recept.
Voedingswaarde :
Nutrition Facts
Tiramisu met limoncello
Amount per Serving
% Daily Value*
* Percent Daily Values are based on a 2000 calorie diet.
Copyright ©Liliesfood
DISCLOSURE: Sommige van de links hier zijn affiliate links. Deze helpen mij bij het maken en onderhouden van onze website en sociale kanalen.