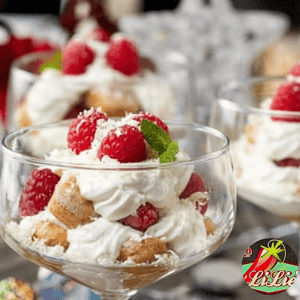 Tiramisu met limoncello
Materiaal — Benodigdheden
Ingrediënten
1

citroen

100

g

ver­se fram­bo­zen

(of aard­bei­en, bosbessen, …)

4

tak­jes munt

250

g

mas­car­po­ne

3

eie­ren

150

g

fij­ne sui­ker

delen in 3 keer 50gr.

50

g

wit­te cho­co­la­de­schil­fers

(kan je zelf ras­pen van een blok wit­te chocolade.)

1

pak savoi­ar­di koek­jes

(lan­ge vingers)
Instructies
Pers het sap van de citroen.

Doe samen in een steel­pan­ne­tje en voeg 50 g sui­ker en de limon­cel­lo toe.

Warm op en klop erdoor met een gar­de tot de sui­ker is opgelost.

Laat afkoe­len!

Scheid de eieren.

Klop de eidooi­ers op met 50 g suiker.

Klop deze heel goed tot een ruban (tot je een wit lint krijgt, de sui­ker moet vol­le­dig opge­lost zijn!)

Klop er de mas­car­po­ne en de helft van de afge­koel­de limon­cel­lo­si­roop door.

Klop de eiwit­ten half op.

Voeg dan 50 g sui­ker toe en klop hele­maal stijf.

Spa­tel het eiwit door het mascarpone-mengsel.

Doop de lan­ge vin­gers in de rest van de limoncellosiroop.

Bouw de tira­mi­su op in ver­schil­len­de laag­jes van lan­ge vin­gers en het mascarpone-mengsel.

Laat min­stens 2 uur, maar liefst een nacht opstij­ven in de koelkast.

Zo kun­nen de sma­ken zich goed vermengen.

Werk de tira­mi­su af met gerasp­te wit­te cho­co­la­de, fram­bo­zen (of ander fruit) en een blaad­je munt.

Opti­o­neel kan je er nog wat citroen­schil over raspen.

Ser­veer.
Notities
Tiramisu met limoncello
Het is eens iets anders dan een klas­sie­ke tira­mi­su! Fris­ser, luch­ti­ger maar even lekker!
Tips en Info
Limon­cel­lo is de dag van van­daag niet meer weg te den­ken in onze keu­ken. De drank is zo popu­lair en wordt daar­om ook ver­werkt in tal van des­serts. Waar­on­der deze tira­mi­su dus.
Heb je lie­ver de ori­gi­ne­le tira­mi­su? Klik hier!
Wil je meer weten over limon­cel­lo? Klik hier!
Een tip voor als je iets wil drin­ken bij deze tira­mi­su is om eens een wijn te pro­be­ren. Heer­lijk bij des­serts, en het is eens wat anders dan koffie.
Onze recep­ten­bun­del werd moge­lijk gemaakt door soft­wa­re van Boot­strap­ped Ventures.

Heb je dit recept zelf gepro­beerd? Of heb je een vraag of opmer­king over het recept? Laat dan een reac­tie ach­ter hier­on­der en beoor­deel het met wat sterren.
Mis­schien heb je zelf een recept of een vari­ant ervan? Wil je dit met ons en onze lezers delen?
Voeg het dan hier toe!
HONGER NAAR MEER? Abon­neer je op onze nieuws­brief en volg ons op Facebook, Pin­te­rest en Inst­agram voor alle laat­ste updates.
Tira­mi­su met limon­cel­lo! Ver­ras je gas­ten of jezelf met dit heer­lij­ke recept.