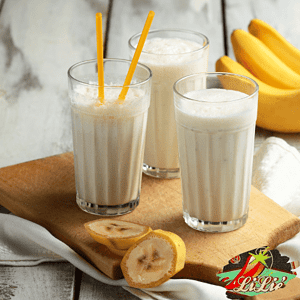 banaan milkshake
Dit banaan milk­sha­ke recept is sim­pel maar lek­ker! Klaar in 5 minu­ten met ingre­di­ën­ten die je meest­al wel in huis hebt.
Materiaal — Benodigdheden
Ingrediënten
6

el

vanil­le-ijs

3

stuks

bana­nen

rijp

400

ml

vol­le melk

(of half­vol­le kan ook)

1

tl

vanil­le aroma

1

zak­je

vanil­le­sui­ker

opti­o­neel
Notities
Banaan milkshake
Banaan milk­sha­ke maken is zeer één­vou­dig, en je hebt er niet zoveel voor nodig. Bij war­mer weer is dit een trak­ta­tie voor jong en oud!

INFO EN TIPS
De milk­sha­ke is ook lek­ker met een toef slag­room erop.
Ook in samen­spel met cho­co­la­de is dit een win­naar. Je kan wat cho­co­la­de­vlok­ken aan je sha­ke toe­voe­gen, of wat cacao­poe­der op je slagroom.
In plaats van vanil­le-ijs kan je ook cho­co­la­de ijs of stra­ci­a­tel­la-ijs (room­ijs met stuk­jes cho­co­la­de) toevoegen.
In dit recept gebrui­ken we vol­le melk. Wil je de sha­ke nog vol­ler en dik­ker, kan je ook de melk voor de helft nog ver­van­gen door room.
Maar niets houdt je tegen om de vol­le melk te ver­van­gen door half­vol­le of zelfs mage­re melk (zo is hij wat min­der calorierijk!).
Een ander manier van banaan milk­sha­ke is door er een smoot­hie van te maken. Laat hier­voor het vanil­le-ijs en de vol­le melk weg, en ver­vang deze door wat natuur yog­hurt en gecrus­hed ijs. Het mixen doe je dan wel best met een blen­der!
Je kan je sha­ke of smoot­hie ook zoe­ter maken met sui­ker­si­roop indien je dit wenst.
In onze recep­ten­bun­del kan je ook Mock­tails terug­vin­den! Ook een aan­ra­der bij war­mer weer!
Zorg dat je gla­zen gekoeld zijn! Steek ze een tijd in je vrie­zer alvo­rens te gebrui­ken! Dit zal je sha­ke ten goe­de komen!
Onze recep­ten­bun­del wer­den moge­lijk gemaakt door soft­wa­re van Boot­strap­ped Ventures.

Heb je dit recept zelf gepro­beerd? Of heb je een vraag of opmer­king over het recept? Laat dan een reac­tie ach­ter hier­on­der en beoor­deel het met wat sterren.
Mis­schien heb je zelf een recept wat u met ons en onze lezers wil delen.
Voeg het dan hier toe!
HONGER NAAR MEER? Abon­neer je op onze nieuws­brief en volg ons op Facebook, Pin­te­rest en Inst­agram voor alle laat­ste updates.
Banaan milk­sha­ke! Sim­pel maar lekker!
Voedingswaarde :
Nutri­ti­on Facts
banaan milk­sha­ke
Amount per Serving
% Dai­ly Value*
* Per­cent Dai­ly Valu­es are based on a 2000 calo­rie diet.