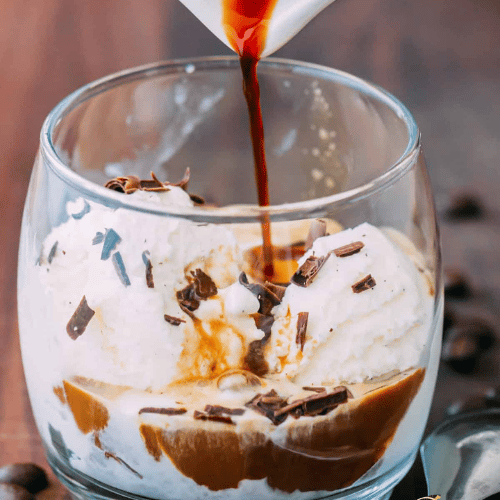 Affogato
Affo­ga­to is een Ita­li­aans des­sert met espres­so en room­ijs in de hoofd­rol. Let­ter­lijk bete­kent het "ver­dron­ken", waar­op we kun­nen uit­ma­ken dat het room­ijs ver­dron­ken wordt in de kof­fie. Een opkikker!
Materiaal — Benodigdheden
Instructies
Schep met een ijs­le­pel 2 bol­le­tjes ijs in een gekoeld koffieglas.

2 bol­le­tjes vanil­le ijs

Schraap met een dun­schil­ler wat pure chocolade-schaafsels.

wat cho­co­la­de­schil­fers

Maak een dub­be­le espresso.

Giet deze espres­so over het ijs in het glas.

Schraap als extra opnieuw wat cho­co­la­de­schil­fers erover.

Voeg opti­o­neel een shot Ama­ret­to toe.

30 ml Ama­ret­to di Saronno
Notities
Affogato.
Affo­ga­to is een mak­ke­lijk Ita­li­aans des­sert. Het ziet er leuk uit en is gemaakt in een paar secon­den tijd. Waan je even op een ter­ras in Milaan!
INFO EN TIPS
Een­per­soons des­serts zoals deze zijn ook per­fect voor op feest­jes. Ver­ras je gas­ten met een ori­gi­neel maar sim­pel dessert.
Affo­ga­to bete­kent "ver­dron­ken" in het Ita­li­aans en het komt erop neer dat je ijs ver­drinkt in kof­fie. De hete kof­fie begint het ijs te smel­ten en vormt een dik schuim boven­op. Smeu­ïg en lekker!
Wij hou­den van de rij­ke smaak en romig­heid van espres­so maar je kunt de espres­so shots ver­van­gen door gewoon ster­ke kof­fie. Eigen­lijk maak je het des­sert met de kof­fie die je gewoon bent om te drinken.
In het recept wordt de affo­ga­to met vanil­le ijs gemaakt. Maar expe­ri­men­teer! Elke ijs­soort kan! Ben je een kof­fie­lief­heb­ber? Dan is kof­fie ijs zeker een aanrader.
Meer weten over kof­fie? Klik hier!
Ook zo voor de likeur. Hier gebrui­ken we , maar of zijn ook uit­ste­ken­de keu­zes. Zelfs of lenen zich uiter­ma­te voor affogato.
Let wel, de likeur is opti­o­neel. Ben je geen alchol­drin­ker? Laat de likeur dan gewoon weg.
Je kan ook expe­ri­men­te­ren met Affo­ga­to top­pings. Denk aan : Kara­mel­saus,
Cho­co­la­de­saus, Cacao­poe­der, Gerasp­te cho­co­la­de espres­so­bo­nen, Bis­cot­ti of Ita­li­aan­se piz­zel­le koek­jes, Zee­zout, gehak­te hazel­no­ten of pistachenoten.
Heb je een feest­je? Je kan de gla­zen al vul­len met het ijs en in de vrie­zer ste­ken. Zo moet je enkel nog de espres­so over het ijs gie­ten en afwer­ken met je topping.
Het ser­ve­ren van affo­ga­to in gekoel­de gla­zen is een must voor war­me dagen of als je het bui­ten ser­veert, zodat het ijs niet met­een smelt.

Onze recep­ten­bun­del wer­den moge­lijk gemaakt door soft­wa­re van Boot­strap­ped Ventures.

Heb je dit recept zelf gepro­beerd? Of heb je een vraag of opmer­king over het recept? Laat dan een reac­tie ach­ter hier­on­der en beoor­deel het met wat sterren.
Mis­schien heb je zelf een recept wat u met ons en onze lezers wil delen.
Voeg het dan hier toe!
HONGER NAAR MEER? Abon­neer je op onze nieuws­brief en volg ons op Facebook, Pin­te­rest en Inst­agram voor alle laat­ste updates.
Affo­ga­to! Waan je even in Italië!!
Voedingswaarde :
Nutri­ti­on Facts
Affo­ga­to
Amount per Serving
% Dai­ly Value*
* Per­cent Dai­ly Valu­es are based on a 2000 calo­rie diet.