Shirley Temple Mocktail
Deze mocktail is genoemd naar de gelijknamige kindster uit de jaren 1930, Shirley Temple. Hij smaakt zoet, is verfrissend en neemt menig van ons terug naar hun kinderjaren.
Materiaal en benodigdheden
Instructies
We maken een "Shirley Temple" Mocktail.

Giet je ginger ale over de ijsblokjes in het glas.

Vul het aan met de grenadine, en knijp het kwartje van de limoen over uit.

1 tl grenadine,

1 kwartje limoen

Neem een barlepel en meng het geheel goed door elkaar.

1 maraschino kers,

1 takje munt

Je Shirley Temple Mocktail is klaar! Enjoy!
Notities
Shirley Temple Mocktail.
De Hollywood ster wou op restaurant net zoals haar ouders genieten van een drankje als aperitief. Een barman maakte haar toen een mocktail op basis van "ginger ale" en grenadine, garneerde hem met een cocktailkers en noemde hem de 'Shirley Temple'.
Menigen onder ons zullen drankjes met "grenadine" herkennen uit hun jeugd. Deze mocktail doorstaat de tand des tijds! Laat dan nu ook jouw kinderen genieten van dit smaakvolle drankje! En ja, maak jezelf er gerust ook één! Cheers!
INFO EN TIPS :
Je kan naargelang je smaak gerust wat meer of minder grenadine toevoegen aan de mocktail.
Wil je een "gezondere" variant? Vervang dan je grenadine bijvoorbeeld door puur granaatappelsap.
Wij gebruiken hier een kwartje limoen, maar je mag gerust ook meer of minder toevoegen naargelang je smaak. Ook citroen gaat perfect.
Mocktails zijn enorm in opmars, en niet meer weg te denken. Je kan ze terugvinden in menig restaurant, basserie of bar, maar je kan er gerust zelf ook mee aan de slag. Wil je meer weten over Mocktail?
Wat is grenadine?
Grenadine is een zoete, heldere, robijnrode siroop die wordt gebruikt als smaakmaker in cocktails en mocktails. Het wordt gemaakt van granaatappelsap, suiker en water, en soms worden er ook andere smaakstoffen zoals vanille of sinaasappel aan toegevoegd. Grenadine heeft een fruitige, lichtzure en zoete smaak die vaak wordt omschreven als kersachtig of frambozenachtig.
Het wordt vaak gebruikt om een zoete en fruitige smaak toe te voegen aan cocktails en hun non alcoholische tegenhanger zoals deze Shirley Temple. Je kan grenadine ook terugvinden in andere drankjes zoals bijvoorbeeld de "Tequila Sunrise" en de "Singapore Sling".
Wat zijn Maraschino kersen?
Maraschino kersen zijn zoete kersen die worden gebruikt als garnering in cocktails, mocktails en desserts. Ze worden gemaakt van zure kersen die worden geconserveerd in een mengsel van suiker, water en maraschino likeur, die wordt gemaakt van de pit van de marasca kers.
Na het conserveren worden de kersen soms gekleurd met rode kleurstof om een felrode kleur te krijgen. Maraschino kersen smaken zoet, fruitige en hebben een lichte amandelsmaak vanwege de maraschino likeur. Ze worden vaak gebruikt als garnering in klassieke cocktails zoals de Manhattan en de Old Fashioned, en ook in desserts zoals ijs en gebak.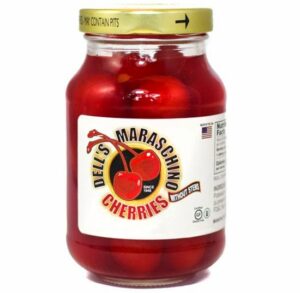 Onze receptenbundel werden mogelijk gemaakt door software van Bootstrapped Ventures.

Heb je dit recept zelf geprobeerd? Of heb je een vraag of opmerking over het recept? Laat dan een reactie achter hieronder! Indien we kunnen helpen doen we dit graag!
Deel het gerust op je social media en tag ons!.
Misschien heb je zelf een recept wat u met ons en onze lezers wil delen.
Voeg het dan hier toe!
HONGER NAAR MEER? Abonneer je op onze nieuwsbrief en volg ons op youtube, TikTok, Facebook, Pinterest en Instagram voor alle laatste updates.
Shirley Temple Mocktail! Lekker zoet en verfrissend!
Voedingswaarde :
Nutrition Facts
Shirley Temple Mocktail
Amount per Serving
% Daily Value*
* Percent Daily Values are based on a 2000 calorie diet.
Copyright ©Liliesfood
DISCLOSURE: Sommige van de links hier zijn affiliate links. Deze helpen ons bij het maken en onderhouden van onze website en sociale kanalen. Voor meer info kan u alles nalezen op onze affiliate disclosure pagina.