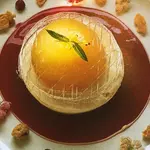 Peche Melba (Escoffier)
Peche Melba is een dessert, gecreëerd door de Franse topkok Auguste Escoffier en voor het eerst geserveerd in 1893. Het gerecht is vernoemd ter ere van de Australische operazangeres Nellie Melba.
Materiaal en benodigdheden
Ingrediënten
6

rijpe witte perziken

1

vanillestokje

300

g

suiker

1,5

liter

water

300

g

verse frambozen

wat

geroosterde amandelschilfers
Instructies
Begin met het schillen van de perziken met een mes of dunschiller, laat ze heel, met de pit.

Snij het vanillestokje doormidden en schraap de vanillezaadjes eruit met de punt van een mes.

Breng het water, de suiker en de vanille aan de kook.

Kook gedurende 5 minuten.

Zet het vuur lager en voeg de perziken toe.

Laat de perziken 8-10 minuten zachtjes pocheren.

Zet het vuur uit en laat de perziken in de siroop afkoelen.

De perziken pocheren kan u gerust een dag op voorhand doen!

In tussentijd kan u de frambozen in een blender tot een gladde coulis blenden.

Als de siroop en de perziken koud zijn, laat u de perziken uitlekken.

Snijd de perziken doormidden en verwijder de pitten.

Vul een diep bord (of glazen coupe) met één of twee bolletjes vanille-ijs, twee halve perziken met wat siroop van de perzik en napeer met de frambozencoulis.

Werk af met wat geroosterde amandelschilfers.
Notities
Pêche Melba (Auguste Escoffier)
Pêche Melba is een dessert, gecreëerd door de
Franse topkok Auguste Escoffier
en voor het eerst geserveerd in 1893
.
Het gerecht is vernoemd ter ere van de australische operazangeres nellie melba.
TIPS en INFO
Natuurlijk is het beter indien U het Vanille-ijs zelf maakt.
In onze recepten kan U hiervoor een recept vinden.
Let wel, U hebt hier een sorbetière (ijsmachine) voor nodig.
Gooi de siroop niet weg! Het is heerlijk om nog verder te gebruiken.
Als drankje bijvoorbeeld. Leng het hiervoor aan met water en ijsblokjes.
Of als basis voor een andere coulis of saus.
Zet de siroop in een fles in de koelkast.
Onze receptenbundel werden mogelijk gemaakt door software van Bootstrapped Ventures.

Heb je dit recept zelf geprobeerd? Of heb je een vraag of opmerking over het recept? Laat dan een reactie achter hieronder en beoordeel het met wat sterren.
Misschien heb je zelf een recept wat u met ons en onze lezers wil delen.
Voeg het dan hier toe!
Pêche Melba...een klassieker!
Voedingswaarde :
Nutrition Facts
Peche Melba (Escoffier)
Amount per Serving
% Daily Value*
* Percent Daily Values are based on a 2000 calorie diet.
Copyright ©Liliesfood
DISCLOSURE: Sommige van de links hier zijn affiliate links. Deze helpen mij bij het maken en onderhouden van onze website en sociale kanalen.