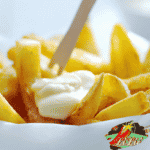 Frieten
Zelf frieten maken is een kunst, maar oh zo lekker om te eten. Met de juiste aardappel en dit recept zet je de lekkerste Belgische frietjes op tafel.
Materiaal en benodigdheden
Ingrediënten
1

kg

Bloemige aardappelen

Bintjes
Instructies
1 kg Bloemige aardappelen

Snijd ze met een aardappelmesje in frieten van zo'n 10mm dikte (of kleiner indien je dit wenst).

Leg ze in een grote mengkom en spoel ze onder koud stromend water.

Dit tot zoveel mogelijk zetmeel van de frieten is weggespoeld (je water in de mengkom moet helder zijn).

Gebruik nu een thee-of neteldoek en droog je frieten zo goed mogelijk. Dep ze eventueel bij af met keukenpapier.

Hoe droger je rauwe frieten, hoe beter.

Verhit het vet tot 140°C.

Bak je rauwe frieten nu voor in het vet, en doe dit in kleine porties! Meestal is dit zo rond de 5 à 6 minuten.

De bedoeling is om je frieten gaar te maken vanbinnen, maar ze mogen vanbuiten nog niet kleuren.

Haal de voorgebakken frieten uit het vet, en laat ze uitdruipen op keukenpapier.

Laat ze nu minstens afkoelen to ze terug op kamertemperatuur zijn. Beter is nog dat je ze even in de koelkast plaatst. Hoe kouder de frieten, hoe beter ze zullen bakken.

Verhit het ossewit in je friteuse nu tot 180°C.

Bak je frieten af tot ze krokant en goudbruin zijn.

Haal ze uit het vet, en laat ze opnieuw afdruipen in een kom met keukenpapier.

Je frieten zijn klaar! Smakelijk!
Notities
Frieten bakken
Zelf frietjes bakken is een kunst, maar met dit recept zal je al aardig op weg zijn om deze Belgische trots op tafel te toveren.

INFO EN TIPS
Frieten bak je in ossewit! Het is gezuiverd en gefilterd rundsvet dat makkelijk verteerd door je lichaam en waarmee je de 'echte smaak' van frieten krijgt.
Je aardappel is alles! Zorg dat hij vers is, en gebruik bintjes. Het moet alleszins een bloemige aardappel zijn.
Indien je liever dikkere frieten hebt, sla dan de stap om ze te spoelen met water over. Een friet die dikker is dan 10mm bevat eigenlijk teveel vocht. Indien je deze nogmaals gaat spoelen waardoor al het zetmeel verdwijnt van de aardappel krijg je ze nooit meer krokant gebakken.
Wil je meer weten over frieten? Klik hier!

Onze receptenbundel werden mogelijk gemaakt door software van Bootstrapped Ventures.

Heb je dit recept zelf geprobeerd? Of heb je een vraag of opmerking over het recept? Laat dan een reactie achter hieronder!
Deel het gerust op je social media en tag ons!.
Misschien heb je zelf een recept wat u met ons en onze lezers wil delen.
Voeg het dan hier toe!
HONGER NAAR MEER? Abonneer je op onze nieuwsbrief en volg ons op youtube, TikTok, Facebook, Pinterest en Instagram voor alle laatste updates.
Frieten met mayonaise...heerlijk!
Voedingswaarde :
Nutrition Facts
Frieten
Amount per Serving
% Daily Value*
* Percent Daily Values are based on a 2000 calorie diet.
Copyright ©Liliesfood
DISCLOSURE: Sommige van de links hier zijn affiliate links. Deze helpen ons bij het maken en onderhouden van onze website en sociale kanalen. Voor meer info kan u alles nalezen op onze affiliate disclosure pagina.