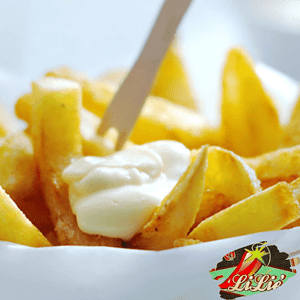 Frieten
Zelf frie­ten maken is een kunst, maar oh zo lek­ker om te eten. Met de juis­te aard­ap­pel en dit recept zet je de lek­ker­ste Bel­gi­sche friet­jes op tafel.
Materiaal — Benodigdheden
Ingrediënten
1

kg

Bloe­mi­ge aard­ap­pe­len

Bint­jes
Instructies
1 kg Bloe­mi­ge aardappelen

Snijd ze met een aard­ap­pel­mes­je in frie­ten van zo'n 10mm dik­te (of klei­ner indien je dit wenst).

Leg ze in een gro­te meng­kom en spoel ze onder koud stro­mend water.

Dit tot zoveel moge­lijk zet­meel van de frie­ten is weg­ge­spoeld (je water in de meng­kom moet hel­der zijn).

Gebruik nu een thee-of netel­doek en droog je frie­ten zo goed moge­lijk. Dep ze even­tu­eel bij af met keukenpapier.

Hoe dro­ger je rau­we frie­ten, hoe beter.

Ver­hit het vet tot 140°C.

Bak je rau­we frie­ten nu voor in het vet, en doe dit in klei­ne por­ties! Meest­al is dit zo rond de 5 à 6 minuten.

De bedoe­ling is om je frie­ten gaar te maken van­bin­nen, maar ze mogen van­bui­ten nog niet kleuren.

Haal de voor­ge­bak­ken frie­ten uit het vet, en laat ze uit­drui­pen op keu­ken­pa­pier.

Laat ze nu min­stens afkoe­len to ze terug op kamer­tem­pe­ra­tuur zijn. Beter is nog dat je ze even in de koel­kast plaatst. Hoe kou­der de frie­ten, hoe beter ze zul­len bakken.

Ver­hit het osse­wit in je fri­teu­se nu tot 180°C.

Bak je frie­ten af tot ze kro­kant en goud­bruin zijn.

Haal ze uit het vet, en laat ze opnieuw afdrui­pen in een kom met keu­ken­pa­pier.

Je frie­ten zijn klaar! Smakelijk!
Notities
Frieten bakken
Zelf friet­jes bak­ken is een kunst, maar met dit recept zal je al aar­dig op weg zijn om deze Bel­gi­sche trots op tafel te toveren.

INFO EN TIPS
Frie­ten bak je in osse­wit! Het is gezui­verd en gefil­terd runds­vet dat mak­ke­lijk ver­teerd door je lichaam en waar­mee je de 'ech­te smaak' van frie­ten krijgt.
Je aard­ap­pel is alles! Zorg dat hij vers is, en gebruik bint­jes. Het moet alles­zins een bloe­mi­ge aard­ap­pel zijn.
Indien je lie­ver dik­ke­re frie­ten hebt, sla dan de stap om ze te spoe­len met water over. Een friet die dik­ker is dan 10mm bevat eigen­lijk teveel vocht. Indien je deze nog­maals gaat spoe­len waar­door al het zet­meel ver­dwijnt van de aard­ap­pel krijg je ze nooit meer kro­kant gebakken.
Wil je meer weten over frie­ten? Klik hier!

Onze recep­ten­bun­del wer­den moge­lijk gemaakt door soft­wa­re van Boot­strap­ped Ventures.

Heb je dit recept zelf gepro­beerd? Of heb je een vraag of opmer­king over het recept? Laat dan een reac­tie ach­ter hieronder!
Deel het gerust op je soci­al media en tag ons!.
Mis­schien heb je zelf een recept wat u met ons en onze lezers wil delen.
Voeg het dan hier toe!
HONGER NAAR MEER? Abon­neer je op onze nieuws­brief en volg ons op you­tu­be, Tik­Tok, Facebook, Pin­te­rest en Inst­agram voor alle laat­ste updates.
Frie­ten met mayonaise…heerlijk!
Voedingswaarde :
Nutri­ti­on Facts
Frie­ten
Amount per Serving
% Dai­ly Value*
* Per­cent Dai­ly Valu­es are based on a 2000 calo­rie diet.