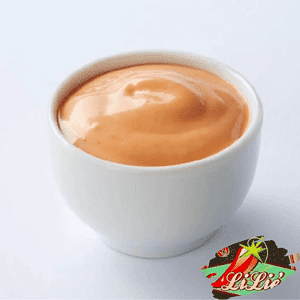 Cocktailsaus met cognac
Cock­tail­saus is een saus op basis van may­o­nai­se en toma­ten­ket­chup. De saus was erg popu­lair in de jaren '80, en werd veel­al geser­veerd bij de gar­na­len­cock­tail die in deze tijds­pe­ri­o­de furo­re maak­te. Tot op van­daag is deze saus nog steeds zeer geliefd en is ze niet meer weg te den­ken uit onze keuken.
Materiaal — Benodigdheden
Instructies
Doe al de ingre­di­ën­ten in een meng­kom.

5 el may­o­nai­se,

1 el toma­ten­ket­chup,

1 mes­punt papri­ka­poe­der,

1 mes­punt cay­en­ne­pe­per,

1 el cog­nac,

1 tl wor­ces­ter­shi­re saus

Roer met een spa­tel alles goed door elkaar.

Proef en kruid bij met wat zout naar smaak.

Je cock­tail­saus met is klaar.
Notities
Cocktailsaus met cognac.
Cock­tail­saus met cog­nac is een klas­sie­ker gewor­den. Niet meer weg te den­ken uit onze keu­ken, stan­daard saus bij elke BBQ en mits aan­ge­past erg geliefd door kinderen.

INFO EN TIPS
Je zou den­ken dat de saus over­ge­waaid kwam uit de US, maar de saus is eigen­lijk onstaan in de jaren '60, uit­ge­von­den door de Brit­se 'Fan­ny Cra­dock'. Een tv kok die het idee had om gar­na­len te pim­pen met de saus.
De cock­tail­saus werd toen als 'Marie Rose sau­ce' gedoopt. In die peri­o­de tra­di­ti­o­neel gemaakt met een com­bi­na­tie van may­o­nai­se, citroen­sap, zwar­te peper, toma­ten en Worcestershiresaus.
Onder­tus­sen ken­nen we aller­han­de vari­an­ten. Met zoals in dit recept, maar ook met , opge­klop­te room, tabasco…
Laat de drank uit de saus en je kin­de­ren zul­len ook smul­len van deze saus.
Ook is de saus zeer geliefd bij elke BBQ, als dip­saus bij rau­we groen­ten en zeker als ham­bur­ger­saus. De cock­tail­saus met cog­nac is een alleskunner!
Om wat meer struc­tuur te krij­gen in je saus kan je ook wat gecon­cas­seer­de toma­ten toe­voe­gen aan de saus.

Onze recep­ten­bun­del wer­den moge­lijk gemaakt door soft­wa­re van Boot­strap­ped Ventures.

Heb je dit recept zelf gepro­beerd? Of heb je een vraag of opmer­king over het recept? Laat dan een reac­tie ach­ter hieronder!
Deel het gerust op je soci­al media en tag ons!.
Mis­schien heb je zelf een recept wat u met ons en onze lezers wil delen.
Voeg het dan hier toe!
HONGER NAAR MEER? Abon­neer je op onze nieuws­brief en volg ons op you­tu­be, Tik­Tok, Facebook, Pin­te­rest en Inst­agram voor alle laat­ste updates.
Cock­tail­saus met cog­nac. Pro­beer het!
Voedingswaarde :
Nutri­ti­on Facts
Cock­tail­saus met cognac
Amount per Serving
% Dai­ly Value*
* Per­cent Dai­ly Valu­es are based on a 2000 calo­rie diet.