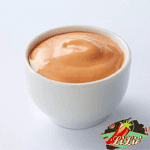 Cocktailsaus met cognac
Cocktailsaus is een saus op basis van mayonaise en tomatenketchup. De saus was erg populair in de jaren '80, en werd veelal geserveerd bij de garnalencocktail die in deze tijdsperiode furore maakte. Tot op vandaag is deze saus nog steeds zeer geliefd en is ze niet meer weg te denken uit onze keuken.
Materiaal en benodigdheden
Instructies
We maken cocktailsaus met cognac.

Doe al de ingrediënten in een mengkom.

5 el mayonaise,

1 el tomatenketchup,

1 mespunt paprikapoeder,

1 mespunt cayennepeper,

1 el cognac,

1 tl worcestershire saus

Roer met een spatel alles goed door elkaar.

Proef en kruid bij met wat zout naar smaak.

Je cocktailsaus met cognac is klaar.

Bewaar afgesloten in de koelkast!
Notities
Cocktailsaus met cognac.
Cocktailsaus met cognac is een klassieker geworden. Niet meer weg te denken uit onze keuken, standaard saus bij elke BBQ en mits aangepast (zonder de alcohol) erg geliefd door kinderen.

INFO EN TIPS :
Je zou denken dat cocktailsaus met cognac overgewaaid kwam uit de US, maar de saus is eigenlijk ontstaan in de jaren '60, uitgevonden door de Britse 'Fanny Cradock'. Een tv kokkin en culinair criticus die het idee had om garnalen te pimpen met de saus.
De cocktailsaus werd toen als 'Marie Rose sauce' gedoopt. In die periode traditioneel gemaakt met een combinatie van mayonaise, citroensap, zwarte peper, tomaten en Worcestershiresaus.
Ondertussen kennen we allerhande varianten. Met zoals in dit recept, maar ook met , opgeklopte room, tabasco...
Zelfs met rum is een optie.
Laat de alcohol uit de saus en je kinderen zullen ook smullen van deze saus.
Ook is ze zeer geliefd bij elke BBQ, als dipsaus bij rauwe groenten en zeker als hamburgersaus. De cocktailsaus is een alleskunner!
Om wat meer structuur te krijgen in je saus kan je ook wat geconcasseerde tomaten toevoegen aan de saus.
Het liefst maken we deze cocktailsaus op basis van onze huisgemaakte mayonaise.

Onze receptenbundel werden mogelijk gemaakt door software van Bootstrapped Ventures.

Bootstrapped Ventures
Heb je dit recept zelf geprobeerd? Of heb je een vraag of opmerking over het recept? Laat dan een reactie achter hieronder! Indien we kunnen helpen doen we dit graag!
Deel het gerust op je social media en tag ons!.
Misschien heb je zelf een recept wat u met ons en onze lezers wil delen.
Voeg het dan hier toe!
HONGER NAAR MEER? Abonneer je op onze nieuwsbrief en volg ons op youtube, TikTok, Facebook, Pinterest en Instagram voor alle laatste updates.
Cocktailsaus met cognac. Probeer het!
Voedingswaarde :
Nutrition Facts
Cocktailsaus met cognac
Amount per Serving
% Daily Value*
* Percent Daily Values are based on a 2000 calorie diet.
Copyright ©Liliesfood
DISCLOSURE: Sommige van de links hier zijn affiliate links. Deze helpen mij bij het maken en onderhouden van onze website en sociale kanalen.