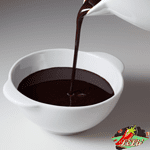 Chocoladesaus maken
Chocoladesaus maken is zo simpel als 1,2,3! Enkel 2 ingrediënten, volle melk en pure chocolade, heb je nodig om zelf de beste chocoladesaus te maken. Heerlijk bij desserts, en al jaar en dag de combinatie met vanille ijs!
Instructies
Breng je melk aan de kook in een sauspan.

Zet de melk van het vuur.

Roer alles goed onder elkaar tot de chocolade volledig is opgelost.

Zo is chocoladesaus maken een koud kunstje.
Notities
Chocoladesaus maken.
Het hoeft niet steeds moeilijk te zijn. Chocoladesaus maken kan iedereen!

INFO EN TIPS
Zelf gebruiken we altijd "pure" of fondant chocolade. Maar niets houd je tegen om het te maken met melkchocolade of zelfs witte chocolade.
De hoeveelheden die bij het recept aangegeven worden zijn eerder een richtlijn. Soms heb je de chocoladesaus liever wat dikker, soms liever wat dunner, en veel hangt af van het soort chocolade dat je gebruikt. De hoeveelheid cacao die de chocolade bevat speelt hierin ook een rol. Je moet eigenlijk gewoon chocolade aan je gekookte melk toevoegen tot de juiste dikte en tot je saus mooi blinkt!
Chocoladesaus maken doen we vooral bij vanille ijs, maar ook in combinatie met rood fruit, allerhande gebak en sinaasvruchten (sinaasappel, mandarijn, pompelmoes, ...) is het een absolute winnaar!
Churros worden ook standaard in chocoladesaus gedipt alvorens verorbert te worden.
Onze receptenbundel werden mogelijk gemaakt door software van Bootstrapped Ventures.

Heb je dit recept zelf geprobeerd? Of heb je een vraag of opmerking over het recept? Laat dan een reactie achter hieronder of deel het op je social media.
Misschien heb je zelf een recept wat u met ons en onze lezers wil delen.
Voeg het dan hier toe!
HONGER NAAR MEER? Abonneer je op onze nieuwsbrief en volg ons op youtube,  Facebook, Pinterest en Instagram voor alle laatste updates.
Chocoladesaus maken is makkelijk en snel! Koop je chocoladesaus dus niet meer! Maak ze de volgende keer gewoon zelf! Doen!
Voedingswaarde :
Nutrition Facts
Chocoladesaus maken
Amount per Serving
% Daily Value*
* Percent Daily Values are based on a 2000 calorie diet.
Copyright ©Liliesfood
DISCLOSURE: Sommige van de links hier zijn affiliate links. Deze helpen mij bij het maken en onderhouden van onze website en sociale kanalen.