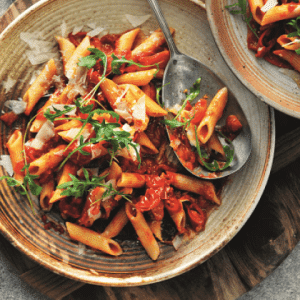 Penne all'arrabiatta
Pen­ne arra­bi­at­ta is een heel sim­pel maar oh zo lek­ker pas­ta gerecht.
Arra­bi­a­ta bete­kend "boos, of laai­end". Het ingre­di­ënt dat de pas­ta laai­end maakt is de Spaan­se peper.
Materiaal — Benodigdheden
Ingrediënten
6

eet­le­pels

oljf­olie

(zorg voor een goe­de olijf­olie als basis voor in je keuken!)

2

tenen

knof­look

gesnip­perd (of gebruik een lookpers)

2

stuks

Spaan­se pepers (chi­li)

fijn­ge­hakt

400

gr

San Mar­za­no toma­ten­pulp of blok­jes uit blik

snuf

zout (naar smaak en believen)

500

gr

gedroog­de Penne

2

eet­le­pels

ver­se peter­se­lie

gehakt

75

gr

par­me­zaan­se of Peco­ri­no kaas

1

scheu­tje

olijf­olie

wat

noten­sla (roquet)
Instructies
Ver­hit de olijf­olie en bak hier even de knof­look en Spaan­se peper in aan.

Voeg de toma­ten toe en laat ze gedu­ren­de een 15 tal minu­ten mee bak­ken en sudderen.

Proef, en voeg zout naar smaak toe.

Kook de Pen­ne al Den­te, en giet af.

Voeg de pas­ta en de peter­se­lie toe aan de saus en meng alles goed door.

Ook de kaas mag u eron­der mengen

Werk af met een scheu­tje olijf­olie en de notensla.
Notities
Penne all'arrabiatta
Pen­ne Arra­bi­at­ta is een heel sim­pel maar oh zo lek­ker pas­ta gerecht.
Arra­bi­at­ta bete­kend "boos, of laaiend".
Het ingre­di­ënt dat de pas­ta laai­end maakt is de Spaan­se peper.
TIPS EN INFO
Tip : Indien uw saus te dik wordt, gebruik dan het pas­ta-water om uw saus te verdunnen!
Kook uw pas­ta ook altijd in ruim vol­doen­de "gezou­ten water". De maat­staf is 1l water per 100gr gedroog­de pas­ta. Het zout voegt u toe aan het water net voor u de pas­ta kookt. Gebruik liefst grof zee­zout en in een ver­hou­ding van 10gr zout per liter water.
Pen­ne Riga­te is een geribbelde"pijpjes"pasta . De rib­bels zor­gen voor een bete­re saus-opna­me door de pasta.
Meer weten over hoe je de pas­ta zelf kan maken? Klik hier!
In Ita­lië wor­den veel toma­ten uit blik gebruikt. Voor soe­pen, sau­zen, vul­lin­gen, noem maar op.Wij gebrui­ken ze ook vaak, lek­ker mak­ke­lijk, dus waar­om ook niet? Het eni­ge punt is dat er maar één soort bestaat die van enorm goe­de kwa­li­teit zijn: de San Mar­za­no tomaten.
Ruco­la wordt sinds de Mid­del­eeu­wen in het Mid­del­land­se Zee­ge­bied geteeld. Ruco­la wordt steeds popu­lair­der. Ruco­la heeft een pit­ti­ge, iets bit­te­re, noot­ach­ti­ge smaak. Ande­re namen voor ruco­la: roquet­te, raketsla, noten­sla en mos­terd­kruid. Ruco­la is mak­ke­lijk zelf te zaai­en en te ver­bou­wen. Je kunt ervan blij­ven pluk­ken, omdat het plant­je steeds weer nieu­we blaad­jes vormt.
Onze recep­ten­bun­del wer­den moge­lijk gemaakt door soft­wa­re van Boot­strap­ped Ventures.

Heb je dit recept zelf gepro­beerd? Of heb je een vraag of opmer­king over het recept? Laat dan een reac­tie ach­ter hier­on­der en beoor­deel het met wat sterren.
Mis­schien heb je zelf een recept wat u met ons en onze lezers wil delen.
Voeg het dan hier toe!
HONGER NAAR MEER? Abon­neer je op onze nieuws­brief en volg ons op Facebook, Pin­te­rest en Inst­agram voor alle laat­ste updates.
Pen­ne all'ar­ra­bi­at­ta, het klas­sie­ke pas­ta­ge­recht dat we alle­maal ken­nen. Pro­beer het!
Voedingswaarde :
Nutri­ti­on Facts
Pen­ne all'arrabiatta
Amount per Serving
% Dai­ly Value*
* Per­cent Dai­ly Valu­es are based on a 2000 calo­rie diet.