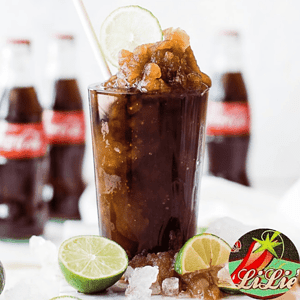 Coca Cola mocktail — slushy
Coca Cola mock­tail. Oh ja!!!! Mock­tails wor­den ook gemaakt met aller­han­de fris­dran­ken. Eigen­lijk is dit meer een slus­hy. Kin­de­ren zijn er trou­wens dol op (maar vol­was­se­nen ook!)! Het is niet moei­lijk om te maken, en bij zomer­se tem­pe­ra­tu­ren een wel­ge­ko­men verfrissing!
Materiaal — Benodigdheden
Ingrediënten
2

blik­jes

coca cola

(of ande­re fris­drank, je kan eigen­lijk gebrui­ken wat je graag wil!)

1

stuk

limoen

wat

gecrus­hed ijs
Instructies
Eén ijs­vorm gebruikt onge­veer 1 blik­je fris­drank, en je hebt onge­veer 1 blik­je nodig voor in de blender.

TIP! Als de fris­drank bevriest zet het nog­al uit. Vul de vorm­pjes voor onge­veer ¾.
Als de cola (frisdrank) bevroren is.
Doe al het cola-ijs uit de vorm en doe in je keu­ken­ro­bot of blender.

Neem een voor­ge­koeld glas en vul het een beet­je met gecrus­ht ijs.

Knijp er het sap van een kwart limoen over, en leg het kwart­je bij in het glas.

Giet de gemix­te drank over het ijs in het glas.

Vul het glas bij met ijskoude .

Werk af met een schijf­je limoen.
Notities
Coca Cola mocktail — slushy
Een Coca cola slus­hy ken­nen we onder­tus­sen wel alle­maal. Meest­al koop je het in een super­markt of bios­coop, en het wordt gemaakt in een spe­ci­a­le gepa­ten­teer­de machi­ne die de vloei­stof op een kou­de tem­pe­ra­tuur houdt. Omdat wij thuis niet zo'n machi­ne heb­ben laat ik je zien hoe je zelf zo'n cola slus­hy kan maken.

TIPS EN INFO
Deze manier van mock­tail of slus­hy maken kan gerust ook met ande­re (fris)dranken. Gebruik dezelf­de manier van wer­ken met spri­te, 7up, ice tea, …
Let op met je blen­der of keu­ken­ro­bot! Als hij niet zo groot is dan moet je er op let­ten dat hij niet te vol geraakt. Bij het mixen wil de drank nog wel eens wat schui­men en omhoog komen. Vul dus zeker je blen­der niet tot boven toe!
Er is nog een ande­re manier die heel mak­ke­lijk is om deze drank te maken. Ben je in het bezit van een kit­che­naid keu­ken­ma­chi­ne? En heb je daar­bij het acces­soi­re om zelf ijs mee te draai­en? Dan kan je heel mak­ke­lijk fris­drank recht­streeks in de ijs­ma­ker doen en hem laten draai­en. Je slus­hy kan je dan zo uit je kan schenken!Dit is nog beter want je slus­hy zal dik­ker zijn!!
Bezoek onze recep­ten­bun­del voor nog meer Mock­tails zoals een gin tonic mock­tail, pina cola­da mock­tail, blue lagoon of een alco­hol­vrije moji­to.
Onze recep­ten­bun­del wer­den moge­lijk gemaakt door soft­wa­re van Boot­strap­ped Ventures.

Heb je dit recept zelf gepro­beerd? Of heb je een vraag of opmer­king over het recept? Laat dan een reac­tie ach­ter hier­on­der en beoor­deel het met wat sterren.
Mis­schien heb je zelf een recept wat u met ons en onze lezers wil delen.
Voeg het dan hier toe!
HONGER NAAR MEER? Abon­neer je op onze nieuws­brief en volg ons op Facebook, Pin­te­rest en Inst­agram voor alle laat­ste updates.
Coca cola mock­tail of slushy…probeer het eens, en laat ons weten of het je gelukt is!
Voedingswaarde :
Nutri­ti­on Facts
Coca Cola mock­tail — slushy
Amount per Serving
% Dai­ly Value*
* Per­cent Dai­ly Valu­es are based on a 2000 calo­rie diet.