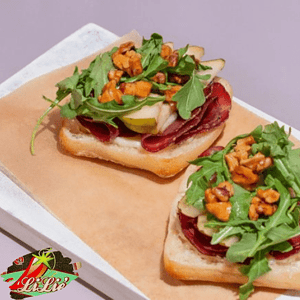 Ciabatta met bresaola en peer.
Een open cia­bat­ta met bre­sa­ola, in com­bi­na­tie met gor­gon­zo­la en peer. Lek­ker als snack, lunch of gewoon tussendoor.
Materiaal — Benodigdheden
Ingrediënten
Als beleg:
4

schij­ven

cia­bat­ta

in de leng­te door­mid­den gesneden

75

gr

gor­gon­zo­la

ver­zacht (op kamer­tem­pe­ra­tuur en geprakt met een vork)

wat

wal­no­ten

gehakt

wat

ruco­la

(note­sla)

1

stuk

peer

Doy­en­né du Comi­ce (gebruik ik hier voor), ont­pit, in 12 plak­jes gesneden

12

snee­tjes

Bre­sa­ola
Instructies
Bre­sa­ola met peer is een lek­ke­re combinatie!
Voor de vinaigrette:
1/2 tl mos­terd,

4 tl rode wijnazijn

Doe de olie er drup­pel­ge­wijs en al klop­pend bij.

Breng op smaak met zout en peper.
Voor de open ciabatta:
Smeer een kwart van de gor­gon­zo­la op elk plak­je ciabatta.

4 schij­ven cia­bat­ta,

75 gr gorgonzola

Vouw 3 stuk­ken bre­sa­ola in vie­ren en leg ze op de gorgonzola.

Meng de ruco­la en de plak­jes peer met de vinaigrette.

Schik er 3 plak­jes peer op het schijf­je cia­bat­ta en leg een kwart van de ruco­la op de peren.

Strooi er wal­no­ten over.

Je cia­bat­ta met bre­sa­ola en peer is klaar! Smakelijk!
Notities
Ciabatta met bresaola en peer.
Als snack, lunch of tus­sen­door­tje. Bre­sa­ola in com­bi­na­tie met peer en gor­gon­zo­la. Dit smaakt altijd!

TIPS EN INFO
Dit is een sim­pel gerecht, pure een­voud. Het is dus belang­rijk dat je basis­in­gre­di­ën­ten van supe­ri­eu­re kwa­li­teit zijn! Gebruik ver­se bre­sa­ola, top gor­gon­zo­la en zorg voor een goe­de olijf­olie en rode wijn­azijn voor je vinaigrette!
Dit zijn rus­tie­ke ingre­di­ën­ten van een popu­lai­re en klas­sie­ke smaak­com­bi­na­tie die je kan terug­vin­den in menig trat­to­ria in Italië.
Bre­sa­ola is een typisch stuk gezou­ten en gekruid (meestal)rundvlees dat gedroogd wordt op een ver­ge­lijk­ba­re manier zoals wij de "sala­mi's" kennen.
Wil je meer weten over Bre­sa­ola? Klik hier!
In dit recept gebrui­ken we gor­gon­zo­la, maar laat je dit niet weer­hou­den om te expe­ri­men­te­ren met krui­den­kaas, of ande­re smeersels.
Indien je het graag wat pit­ti­ger hebt kan je er wat chi­li­vlok­ken over strooi­en.

Onze recep­ten­bun­del wer­den moge­lijk gemaakt door soft­wa­re van Boot­strap­ped Ventures.

Heb je dit recept zelf gepro­beerd? Of heb je een vraag of opmer­king over het recept? Laat dan een reac­tie ach­ter hieronder!
Deel het gerust op je soci­al media en tag ons!.
Mis­schien heb je zelf een recept wat u met ons en onze lezers wil delen.
Voeg het dan hier toe!
HONGER NAAR MEER? Abon­neer je op onze nieuws­brief en volg ons op you­tu­be, Tik­Tok, Facebook, Pin­te­rest en Inst­agram voor alle laat­ste updates.
Cia­bat­ta met bre­sa­ola en peer! Pro­beer het eens!
Voedingswaarde :
Nutri­ti­on Facts
Cia­bat­ta met bre­sa­ola en peer.
Amount per Serving
% Dai­ly Value*
* Per­cent Dai­ly Valu­es are based on a 2000 calo­rie diet.