Performance, speed and design
Despite the fact that website design and performance is totally outside our target audience and main goal of our website, we want to share how we managed to make our site work fast and optimized. It is important, no matter what niche you are in, to optimize your online content for speed, design and use. Anyone who wants their website and content to be found online, and to generate as much organic traffic to it as possible, is obliged to optimize it for search engines! Google' is still (by far) the number one search engine! But of course also for Bing, Yahoo, Yandex, … Optimization and speed of your online content is key! Building your site in a structured way, logical and completed with the right keywords.
With 'trial and error', it did take us some time, effort, search and it did cost some money, believe me!
But…
Fortunately, we have found the right Host, Theme, optimization Plugin and content creator with which we have already been able to take our website to the next level.
For search engines, it is extremely important that your website is structured and logically build. Optimized with the right keywords. And this for desktop use, but equally important for use on mobile devices!
Our optimalisation proof…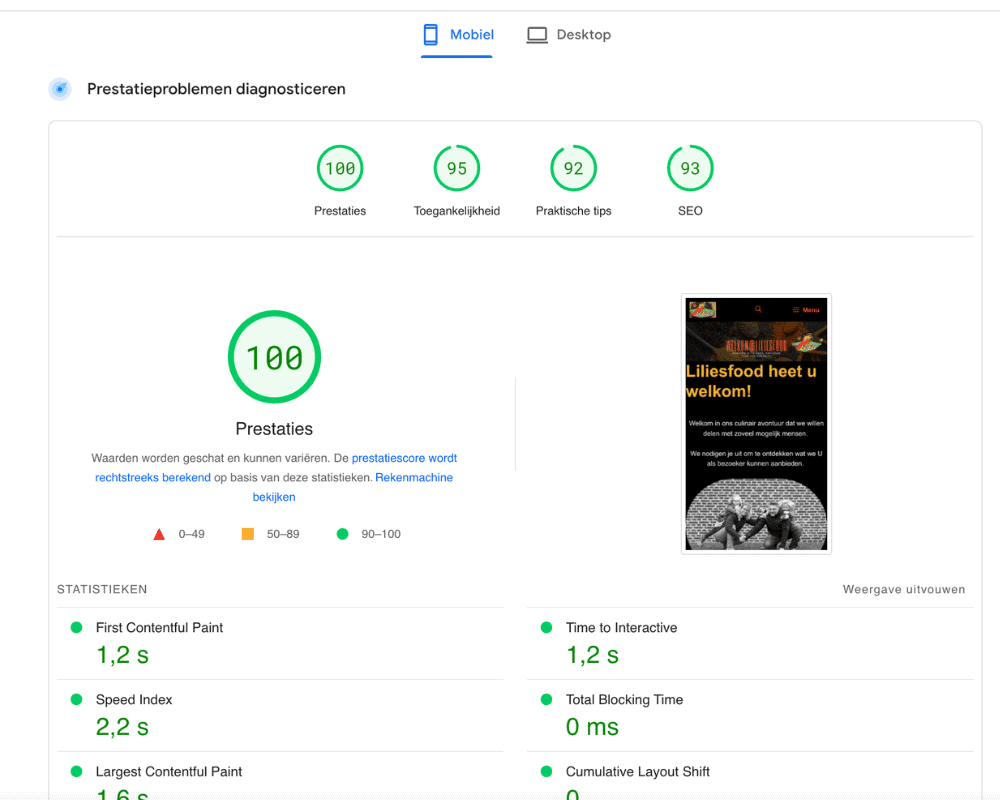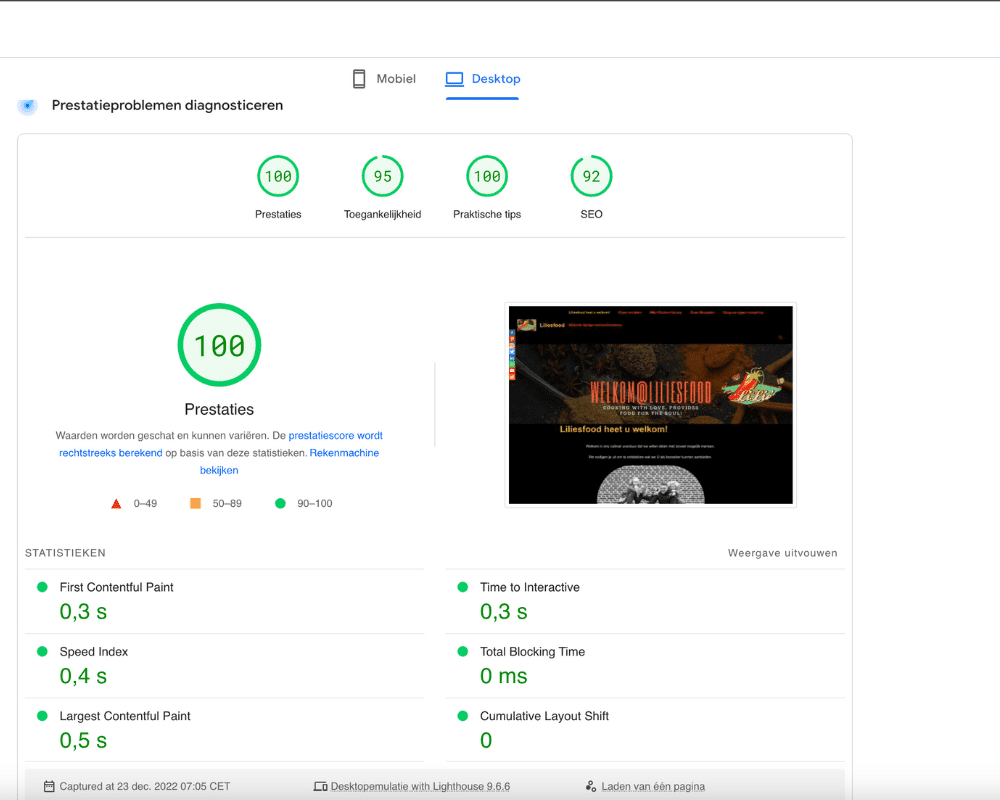 Website design…where do u start?
Your host! That's where it starts! When our website was newly online, we did try a few hosting providers. Hostinger, Digital OCean, GoDaddy…long story short…it was a hassle! We are not that tech savvy, and we design everything on our website ourselves. But making adjustments in servers to optimize your site is not for us. We want to focus on the content of our site, and not on the technical aspect of it!
Most host-providers you will come across are quite cheap. Especially when you start a website. Unfortunately, and rather soon, you'll find out that you need some upgrades in combination with a lot of plugins (which do cost a lot of money if you want to use them optimally) to try and get your site optimized and your website design done properly.
And then we came across Kinsta!
For us 'the wordpress host' that we want to recommend to every wordpress user! Three quarters of our used plugins we were able to remove! We have a clear dashboard with built-in tools for our website. Analytics, free CDN, free DNS, in short..the whole package. And yes, Kinsta will cost you a bit more, but if you start adding everything up, you'll lose that amount with another host as well. Plugins, upgrades, CDN, DNS, lacking support, …. it doesn't stop!
Kinsta is just the whole package under 1 roof, all available with a simple click and included with their service!
It's super easy to migrate your existing website to Kinsta. You can do this yourself, but…they will also do this for you, down to the last detail!!! Admittedly, we too had cold feet about making the migration. Afraid that our content, website design and optimization would be completely ruined. But all this was not necessary! Kinsta is just great, and they'll get the job done!
If you are looking for a new or better host, don't hesitate any longer and try it for free for 30 days! You can try out the dashboard, set up a staging site on which you can experiment to your heart's content. Discover Kinsta now!
Theme
Website design starts with a theme. And yes..your theme can make or break your website! The choice you have of wordpress themes is enormous. Many of these themes are made to make your website look great, but unfortunately there are also some issues here! When your site grows, most off them make your site super slow! The more content you will add, the slower the site will become. CSS, LCP, Javascript…there are so many things you'll have to deal with! All this will not only make your site slower and decrease your sites performance, but it will also cause your site not getting optimized for use on desktop and mobile devices. Everyone knows that when you visit some content or a site, you're not going to wait 10 seconds for it to load.
As for the rest, I'm not going to make a big deal about it. At the moment there is only 1 Theme that will allow you to get results like we have been able to do! The theme we are working with is GENERATEPRESS! Our proof can be seen above on the picture, or I even invite you to check liliesfood.be in Google pagespeed insights! Our optimization and speedscore is always between 96 and 100%.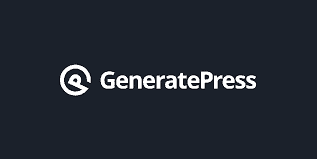 GeneratePress is the lightweight WordPress theme that focuses on speed, stability, and accessibility. Launch your website in the right direction, whether you are a hobbyist, freelancer, or business. The proof is there! Discover GeneratePress now!
Speed and performance.
The next thing your website needs is to optimize its performance and speed according to the content you put on it. Your hosting company is good, you have the right theme and then comes 1 optimization plugin that will make sure your site is technically just the way you want it! This plugin will make sure you will get 100% scores in any pagespeed checker! It will be the only tool you will ever need to optimize your site to perfection! Discover PERFMATTERS!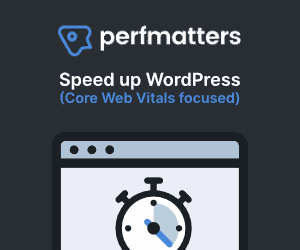 It is the lightweight WordPress performance plugin!
Slow WordPress sites have higher bounce rates and fewer conversions. The plugin was created by web performance geeks to speed up your site! And it does what it promises!!!
Now, if you install the plugin, it is quite a challenge for people (like me) who are not technically inclined, to struggle through the material. The first time we opened the settings of the plugin everything was very unclear to us. However, it is important not to let the plugin keep its default options, but to really delve into the matter and get to know Perfmatters better. You have to configure the plugin in such a way that it works best for your website.
Configuration
Maybe you have a blog, or your site is news related, do you have a forum? All these have an influence how best to adjust the plugin's settings. We were gobsmacked, so I went looking for more info. I ended up on the Youtube video below. In it, the creator of the plugin "Brian Jackson", explains all the settings step by step and goes over them with the necessary explanations! This video takes almost 2 hours! But by watching it and understanding how the plugin works and helps to improve your site, we were able to set up our settings in such a way that we get a score between 96 and 100% pagespeed on Google!
On top of that, their personal support is top notch!
Don't hesitate a second longer! Discover and install PERFMATTERS now! If we can do it, so can you!
Meanwhile, we're one step further..the video below goes even deeper into setting up the plug Perfmatters when using GenerateBlocks and GeneratePress. As in our case. You'll also see the best possible settings when using Elementor as a website builder.
Creating Content
Last, but not least…
Now you also need to build out and customize your website so that your performance stays top notch! How you publish your website content is again hugely important! How do you do this? With GenerateBlocks!
GenerateBlocks is a small collection of lightweight WordPress blocks that can accomplish almost anything. Combine the standard blocks with this new block form that works seamlessly with the GeneratePress theme. The same developer takes care of building better wordpress websites, with a focus on simplicity, but most importantly optimization and speed! It takes some time getting used to it, but you soon get the hang of it. The possibilities are endless! Best of all, the page/post builder does not add unnecessary html code to your website, keeping your speed and performance optimal!!!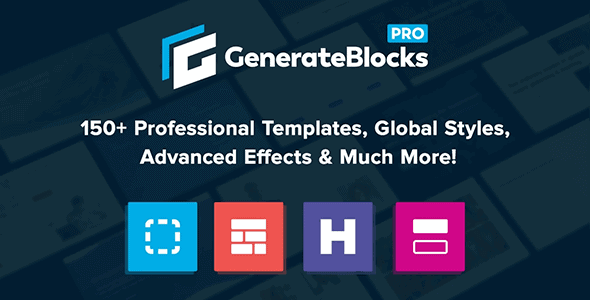 GenerateBlocks provides fast, easy to create wordpress pages and posts! Discover it here!
Finally
To create a website design that is easy to edit, stays up to date and works fast, performance wise it is enough to combine these 4 enumerated elements! Let me add that this is normally a topic totally out of our target, but the results are there! That's why I want to share it!
Our enthusiasm about these 4 elements is unstoppable. For quite a while we tried and searched to get our site to a 'technical' level so that it met the 'current' imposed standards. Website design, performance and optimization are important! Surely anyone who posts content on the internet wants to get traffic to that content! Currently we are rebuilding our entire website with GenerateBlocks for even better results.
You too can start today to make your own website faster, better, more structured and user friendly, and make sure you can rank higher in Google, Bing, Yahoo or Yandex!
The 4 steps
Kinsta, GeneratePress, Perfmatters and GenerateBlocks are the only tools you'll need for the moment! Discover them today!
If this overview has helped you we would love to hear from you! Comments are always welcome!
Feel free to share this page on your social media and tag us! It will make us happy!
Good luck with the design and optimization of your website!