Performance, speed and design
Des­pi­te the fact that web­si­te design and per­for­man­ce is total­ly out­si­de our tar­get audien­ce and main goal of our web­si­te, we want to sha­re how we mana­ged to make our site work fast and opti­mi­zed. It is impor­tant, no mat­ter what niche you are in, to opti­mi­ze your onli­ne con­tent for speed, design and use. Any­o­ne who wants their web­si­te and con­tent to be found onli­ne, and to gene­ra­te as much orga­nic traf­fic to it as pos­si­ble, is obli­ged to opti­mi­ze it for search engi­nes! Goog­le' is still (by far) the num­ber one search engi­ne! But of cour­se also for Bing, Yahoo, Yandex, … Opti­mi­za­ti­on and speed of your onli­ne con­tent is key! Buil­ding your site in a struc­tu­red way, logi­cal and com­ple­ted with the right keywords.
With 'tri­al and error', it did take us some time, effort, search and it did cost some money, belie­ve me!
But…
For­tu­na­te­ly, we have found the right Host, The­me, opti­mi­za­ti­on Plu­gin and con­tent cre­a­tor with which we have alrea­dy been able to take our web­si­te to the next level.
For search engi­nes, it is extre­me­ly impor­tant that your web­si­te is struc­tu­red and logi­cally build. Opti­mi­zed with the right key­words. And this for desktop use, but equal­ly impor­tant for use on mobi­le devices!
Our optimalisation proof…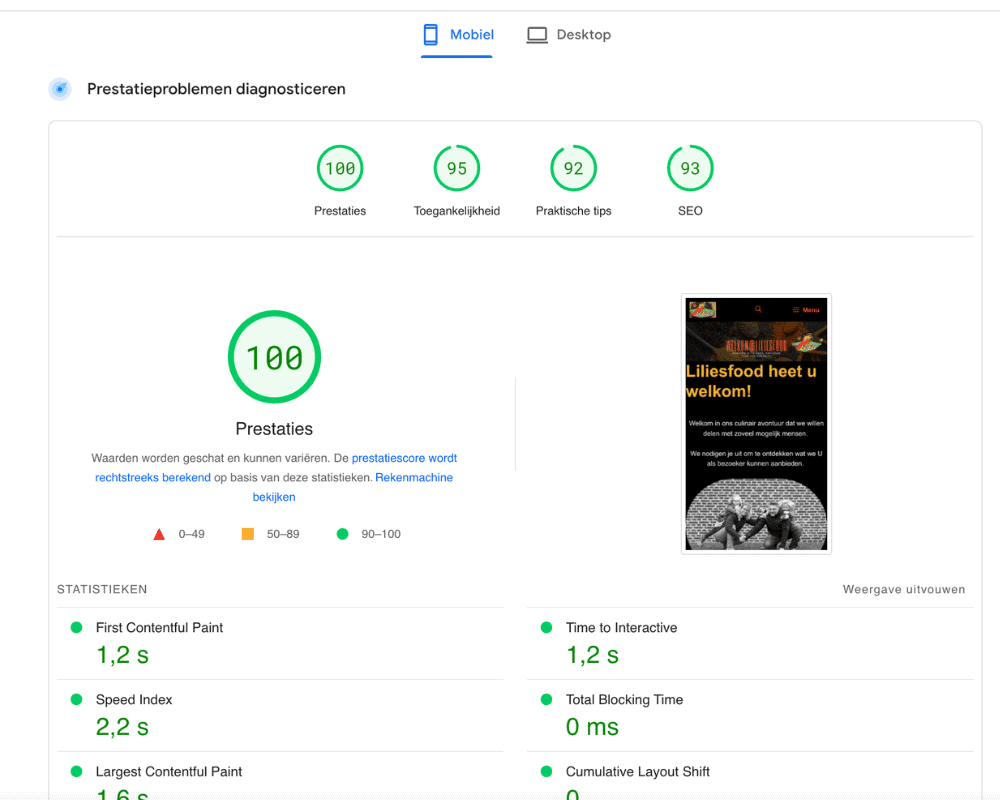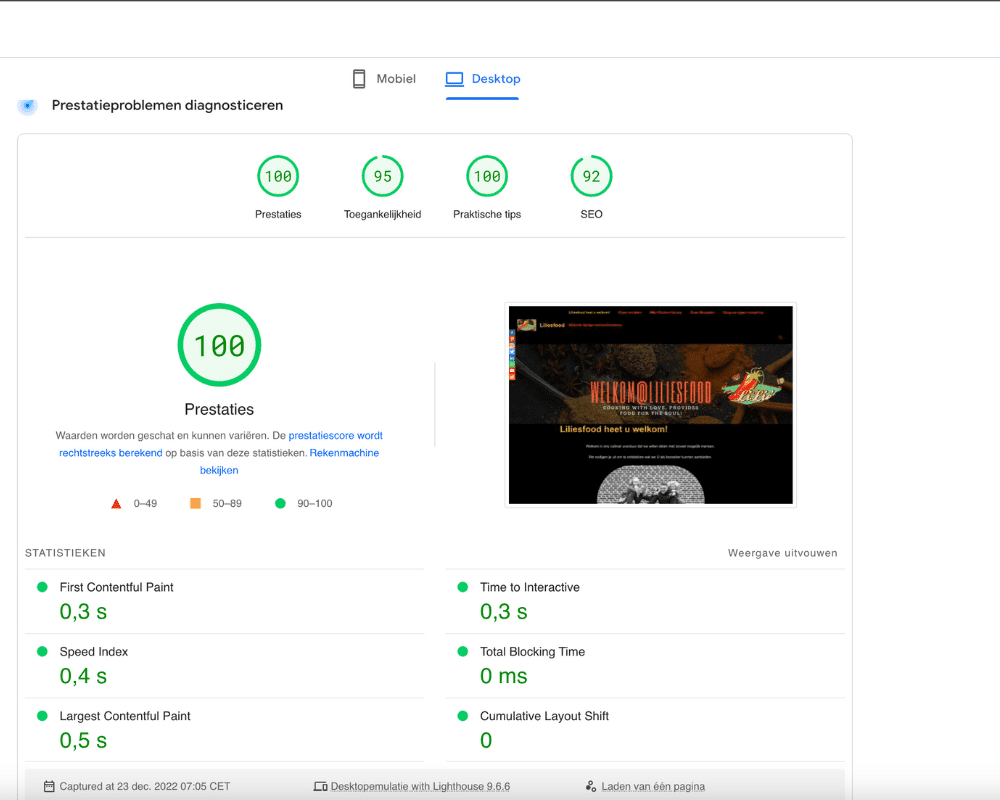 Website design…where do u start?
Your host! That's whe­re it starts! When our web­si­te was new­ly onli­ne, we did try a few hos­ting pro­vi­ders. Hos­tin­ger, Digi­tal OCean, GoDaddy…long sto­ry short…it was a has­sle! We are not that tech savvy, and we design eve­ry­thing on our web­si­te our­sel­ves. But making adjust­ments in ser­vers to opti­mi­ze your site is not for us. We want to focus on the con­tent of our site, and not on the tech­ni­cal aspect of it!
Most host-pro­vi­ders you will come across are qui­te che­ap. Espe­ci­al­ly when you start a web­si­te. Unfor­tu­na­te­ly, and rather soon, you'll find out that you need some upgra­des in com­bi­na­ti­on with a lot of plu­gins (which do cost a lot of money if you want to use them opti­mal­ly) to try and get your site opti­mi­zed and your web­si­te design done properly.
And then we came across Kin­sta!
For us 'the word­press host' that we want to recom­mend to eve­ry word­press user! Three quar­ters of our used plu­gins we were able to remo­ve! We have a clear dash­board with built-in tools for our web­si­te. Ana­ly­tics, free CDN, free DNS, in short..the who­le pack­a­ge. And yes, Kin­sta will cost you a bit more, but if you start adding eve­ry­thing up, you'll lose that amount with ano­ther host as well. Plu­gins, upgra­des, CDN, DNS, lac­king sup­port, …. it doesn't stop!
Kin­sta is just the who­le pack­a­ge under 1 roof, all avai­la­ble with a sim­ple click and inclu­ded with their service!
It's super easy to migra­te your exis­ting web­si­te to Kin­sta. You can do this yourself, but…they will also do this for you, down to the last detail!!! Admit­ted­ly, we too had cold feet about making the migra­ti­on. Afraid that our con­tent, web­si­te design and opti­mi­za­ti­on would be com­ple­te­ly rui­ned. But all this was not neces­sa­ry! Kin­sta is just gre­at, and they'll get the job done!
If you are loo­king for a new or bet­ter host, don't hesi­ta­te any lon­ger and try it for free for 30 days! You can try out the dash­board, set up a sta­ging site on which you can expe­ri­ment to your heart's con­tent. Dis­co­ver Kin­sta now!
Theme
Web­si­te design starts with a the­me. And yes..your the­me can make or break your web­si­te! The choi­ce you have of word­press the­mes is enor­mous. Many of the­se the­mes are made to make your web­si­te look gre­at, but unfor­tu­na­te­ly the­re are also some issues here! When your site grows, most off them make your site super slow! The more con­tent you will add, the slo­wer the site will beco­me. CSS, LCP, Javascript…there are so many things you'll have to deal with! All this will not only make your site slo­wer and decrea­se your sites per­for­man­ce, but it will also cau­se your site not get­ting opti­mi­zed for use on desktop and mobi­le devi­ces. Eve­ry­o­ne knows that when you visit some con­tent or a site, you'­re not going to wait 10 seconds for it to load.
As for the rest, I'm not going to make a big deal about it. At the moment the­re is only 1 The­me that will allow you to get results like we have been able to do! The the­me we are wor­king with is GENERATEPRESS! Our proof can be seen abo­ve on the pic­tu­re, or I even invi­te you to check Liliesfood.be in Goog­le page­speed insights! Our opti­mi­za­ti­on and speed­sco­re is always bet­ween 96 and 100%.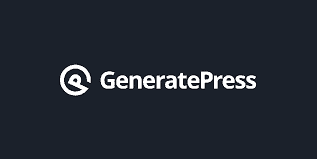 Gene­ra­te­Press is the lightweight Word­Press the­me that focu­ses on speed, sta­bi­li­ty, and acces­si­bi­li­ty. Launch your web­si­te in the right direc­ti­on, whe­ther you are a hob­by­ist, free­lan­cer, or busi­ness. The proof is the­re! Dis­co­ver Gene­ra­te­Press now!
Speed and performance.
The next thing your web­si­te needs is to opti­mi­ze its per­for­man­ce and speed accor­ding to the con­tent you put on it. Your hos­ting com­pa­ny is good, you have the right the­me and then comes 1 opti­mi­za­ti­on plu­gin that will make sure your site is tech­ni­cally just the way you want it! This plu­gin will make sure you will get 100% sco­res in any page­speed chec­ker! It will be the only tool you will ever need to opti­mi­ze your site to per­fec­ti­on! Dis­co­ver PERFMATTERS!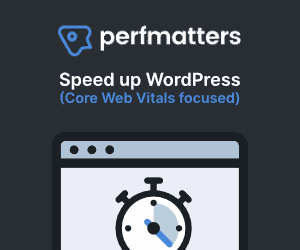 It is the lightweight Word­Press per­for­man­ce plu­gin!
Slow Word­Press sites have hig­her boun­ce rates and fewer con­ver­si­ons. The plu­gin was cre­a­ted by web per­for­man­ce geeks to speed up your site! And it does what it promises!!!
Now, if you install the plu­gin, it is qui­te a chal­len­ge for peo­p­le (like me) who are not tech­ni­cally incli­ned, to strug­gle through the mate­ri­al. The first time we ope­ned the set­tings of the plu­gin eve­ry­thing was very unclear to us. Howe­ver, it is impor­tant not to let the plu­gin keep its default opti­ons, but to real­ly del­ve into the mat­ter and get to know Perf­mat­ters bet­ter. You have to con­fi­gu­re the plu­gin in such a way that it works best for your website.
Configuration
May­be you have a blog, or your site is news rela­ted, do you have a forum? All the­se have an influ­en­ce how best to adjust the plugin's set­tings. We were gobs­mack­ed, so I went loo­king for more info. I ended up on the You­tu­be video below. In it, the cre­a­tor of the plu­gin "Bri­an Jack­son", explains all the set­tings step by step and goes over them with the neces­sa­ry expla­na­ti­ons! This video takes almost 2 hours! But by wat­ching it and under­stan­ding how the plu­gin works and helps to impro­ve your site, we were able to set up our set­tings in such a way that we get a sco­re bet­ween 96 and 100% page­speed on Google!
On top of that, their per­so­nal sup­port is top notch!
Don't hesi­ta­te a second lon­ger! Dis­co­ver and install PERFMATTERS now! If we can do it, so can you!
Mean­w­hi­le, we'­re one step further..the video below goes even dee­per into set­ting up the plug Perf­mat­ters when using Gene­ra­te­Blocks and Gene­ra­te­Press. As in our case. You'll also see the best pos­si­ble set­tings when using Ele­men­tor as a web­si­te builder.
Creating Content
Last, but not least…
Now you also need to build out and cus­to­mi­ze your web­si­te so that your per­for­man­ce stays top notch! How you publish your web­si­te con­tent is again huge­ly impor­tant! How do you do this? With Gene­ra­te­Blocks!
Gene­ra­te­Blocks is a small col­lec­ti­on of lightweight Word­Press blocks that can accom­plish almost any­thing. Com­bi­ne the standard blocks with this new block form that works seam­les­sly with the Gene­ra­te­Press the­me. The same devel­o­per takes care of buil­ding bet­ter word­press web­si­tes, with a focus on sim­pli­ci­ty, but most impor­tant­ly opti­mi­za­ti­on and speed! It takes some time get­ting used to it, but you soon get the hang of it. The pos­si­bi­li­ties are end­less! Best of all, the page/post buil­der does not add unne­ces­sa­ry html code to your web­si­te, kee­ping your speed and per­for­man­ce optimal!!!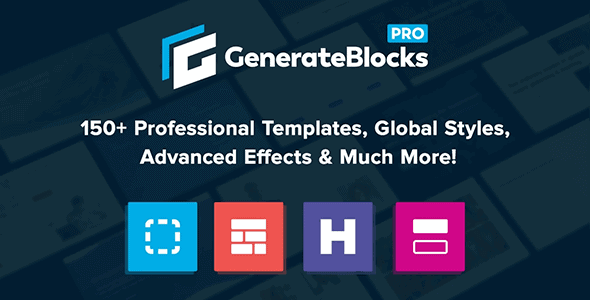 Gene­ra­te­Blocks pro­vi­des fast, easy to cre­a­te word­press pages and posts! Dis­co­ver it here!
Finally
To cre­a­te a web­si­te design that is easy to edit, stays up to date and works fast, per­for­man­ce wise it is enough to com­bi­ne the­se 4 enu­me­ra­ted ele­ments! Let me add that this is nor­mal­ly a topic total­ly out of our tar­get, but the results are the­re! That's why I want to sha­re it!
Our enthu­si­asm about the­se 4 ele­ments is unstop­pa­ble. For qui­te a whi­le we tried and searched to get our site to a 'tech­ni­cal' level so that it met the 'cur­rent' impo­sed standards. Web­si­te design, per­for­man­ce and opti­mi­za­ti­on are impor­tant! Sure­ly any­o­ne who posts con­tent on the inter­net wants to get traf­fic to that con­tent! Cur­rent­ly we are rebuil­ding our enti­re web­si­te with Gene­ra­te­Blocks for even bet­ter results.
You too can start today to make your own web­si­te fas­ter, bet­ter, more struc­tu­red and user friend­ly, and make sure you can rank hig­her in Goog­le, Bing, Yahoo or Yandex!
The 4 steps
Kin­sta, Gene­ra­te­Press, Perf­mat­ters and Gene­ra­te­Blocks are the only tools you'll need for the moment! Dis­co­ver them today!
If this over­view has hel­ped you we would love to hear from you! Com­ments are always welcome!
Feel free to sha­re this page on your soci­al media and tag us! It will make us happy!
Good luck with the design and opti­mi­za­ti­on of your website!