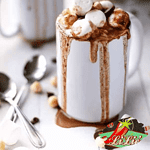 Chocolademelk met Nutella.
Een warme kop chocolademelk smaakt altijd. En chocolademelk met Nutella smaakt nog beter! Probeer deze versie eens! Je zal het je niet beklagen!
Materiaal en benodigdheden
Ingrediënten
Ingrediënten
1

L

melk

(volle, halfvolle of mager..naar keuze)

3

el

Nutella

2

el

cacaopoeder

ongezoet

2

el

suiker
Optionele toppings:
Geplette hazelnoten

Chocolade chips
Instructies
Instructies
Verwarm de melk in een middelgrote sauspan op een zacht vuur.

Klop het geheel zacht met een klopper tot alles gemengd en opgelost is.

Breng al roerend zachtjes tot tegen het kookpunt en neem van het vuur.

Giet over in mokken en serveer met marshmallows of topping naar keuze!

Marshmallows,

Geplette hazelnoten,

Chocolade chips,

Extra Nutella

Geniet van je chocolademelk met Nutella!.
Notities
Chocolademelk met Nutella.
Het is herfst momenteel en dan genieten we allemaal wel eens van een warme kop chocolademelk. De meesten onder ons kennen dan ook Nutella, dus waarom eens niet die kop chocolademelk maken met onze favoriete hazelnootpasta?! Lekker!
INFO EN TIPS
Wij gebruiken graag halfvolle melk, maar de keuze is aan jou. Volle of magere melk gebruiken kan absoluut ook.
Je kan de chocolademelk ook zo drinken, maar die extra topping maakt het natuurlijk af. Mini marshmallows zijn een favoriet voor de kinderen, maar ook slagroom, chocoladeschilfers of wat extra Nutella lukt prima.
Tip! : Blijf wel roeren met de klopper zolang je chocolademelk op je vuur staat. Door de suiker en Nutellapasta wil het geheel wel eens beginnen aanzetten op je bodem van de pan. Door te blijven roeren ga je dit voorkomen.

Onze receptenbundel werden mogelijk gemaakt door software van Bootstrapped Ventures.

Heb je dit recept zelf geprobeerd? Of heb je een vraag of opmerking over het recept? Laat dan een reactie achter hieronder of deel het op je social media.
Misschien heb je zelf een recept wat u met ons en onze lezers wil delen.
Voeg het dan hier toe!
HONGER NAAR MEER? Abonneer je op onze nieuwsbrief en volg ons op youtube,  Facebook, Pinterest en Instagram voor alle laatste updates.
Chocolademelk met Nutella! Probeer het eens!
Voedingswaarde :
Nutrition Facts
Chocolademelk met Nutella.
Amount per Serving
% Daily Value*
* Percent Daily Values are based on a 2000 calorie diet.
Copyright ©Liliesfood
DISCLOSURE: Sommige van de links hier zijn affiliate links. Deze helpen ons bij het maken en onderhouden van onze website en sociale kanalen. Voor meer info kan u alles nalezen op onze affiliate disclosure pagina.