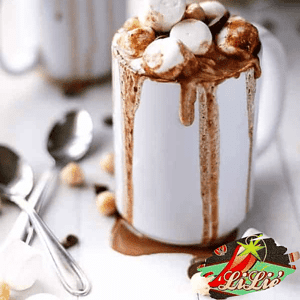 Chocolademelk met Nutella.
Een war­me kop cho­co­la­de­melk smaakt altijd. En cho­co­la­de­melk met Nutel­la smaakt nog beter! Pro­beer deze ver­sie eens! Je zal het je niet beklagen!
Materiaal — Benodigdheden
Ingrediënten
Optionele toppings:
Geplet­te hazelnoten

Cho­co­la­de chips
Instructies
Instructies
Ver­warm de melk in een mid­del­gro­te saus­pan op een zacht vuur.

Klop het geheel zacht met een klop­per tot alles gemengd en opge­lost is.

Breng al roe­rend zacht­jes tot tegen het kook­punt en neem van het vuur.

Giet over in mok­ken en ser­veer met marsh­mal­lows of top­ping naar keuze!

Marsh­mal­lows,

Geplet­te hazel­no­ten,

Cho­co­la­de chips,

Extra Nutel­la

Geniet van je cho­co­la­de­melk met Nutel­la!.
Notities
Chocolademelk met Nutella.
Het is herfst momen­teel en dan genie­ten we alle­maal wel eens van een war­me kop cho­co­la­de­melk. De mees­ten onder ons ken­nen dan ook Nutel­la, dus waar­om eens niet die kop cho­co­la­de­melk maken met onze favo­rie­te hazel­noot­pas­ta?! Lekker!
INFO EN TIPS
Wij gebrui­ken graag half­vol­le melk, maar de keu­ze is aan jou. Vol­le of mage­re melk gebrui­ken kan abso­luut ook.
Je kan de cho­co­la­de­melk ook zo drin­ken, maar die extra top­ping maakt het natuur­lijk af. Mini marsh­mal­lows zijn een favo­riet voor de kin­de­ren, maar ook slag­room, cho­co­la­de­schil­fers of wat extra Nutel­la lukt prima.
Tip! : Blijf wel roe­ren met de klop­per zolang je cho­co­la­de­melk op je vuur staat. Door de sui­ker en Nutel­lapas­ta wil het geheel wel eens begin­nen aan­zet­ten op je bodem van de pan. Door te blij­ven roe­ren ga je dit voorkomen.

Onze recep­ten­bun­del wer­den moge­lijk gemaakt door soft­wa­re van Boot­strap­ped Ventures.

Heb je dit recept zelf gepro­beerd? Of heb je een vraag of opmer­king over het recept? Laat dan een reac­tie ach­ter hier­on­der of deel het op je soci­al media.
Mis­schien heb je zelf een recept wat u met ons en onze lezers wil delen.
Voeg het dan hier toe!
HONGER NAAR MEER? Abon­neer je op onze nieuws­brief en volg ons op you­tu­be, Facebook, Pin­te­rest en Inst­agram voor alle laat­ste updates.
Cho­co­la­de­melk met Nutel­la! Pro­beer het eens!
Voedingswaarde :
Nutri­ti­on Facts
Cho­co­la­de­melk met Nutella.
Amount per Serving
% Dai­ly Value*
* Per­cent Dai­ly Valu­es are based on a 2000 calo­rie diet.