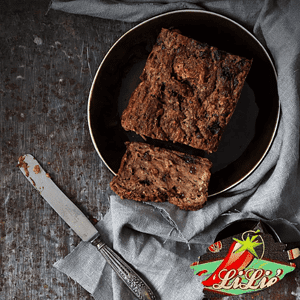 Broodpudding met whisky en noten.
Brood­pud­ding is de manier om je oud brood terug te ver­wer­ken tot een heer­lijk gerecht. Dit een­vou­dig recept voor brood­pud­ding is toe­pas­baar met brood naar keuze.
Materiaal — Benodigdheden
Ingrediënten
300

gr

brood

naar keu­ze

100

gr

kris­tal­sui­ker

100

gr

Brui­ne suiker

0,5

dl

whis­ky

1

l

lau­we melk

4

stuks

eie­ren

los­ge­klopt

50

gr

wal­no­ten

grof gehakt

een

snuif­je

kaneel­poe­der

1

el

boter

om je cake­vorm in te vetten
Instructies
Week het brood in een gro­te meng­kom met de sui­ker en de whis­ky gedu­ren­de 10 minu­ten in de helft van de melk.

300 gr brood,

100 gr kris­tal­sui­ker,

100 gr Brui­ne sui­ker,

0,5 dl whisky

Roer met een vork de groot­ste stuk­ken los.

Ver­warm je oven op 160°C.

Voeg dan de rest van de melk, de los­ge­klop­te eie­ren, de gehak­te wal­no­ten en een snuif­je kaneel­poe­der toe.

1 l lau­we melk,

4 stuks eie­ren,

50 gr wal­no­ten,

een snuif­je kaneelpoeder

Bak je brood­pud­ding gedu­ren­de 45 minu­ten in een oven van 160°C.

Haal uit je oven en laat afkoelen.

Haal de brood­pud­ding uit je cake­vorm en snijd in plakken.
Notities
Broodpudding.
Brood­pud­ding is een héle leu­ke manier om je oud brood nieuw leven in te bla­zen. Je maakt er een voed­zaam en heer­lijk gerecht mee.

INFO EN TIPS
Brood­pud­ding bestaat al zeer lang. Het ori­gi­ne­le recept is terug te halen tot in de middeleeuwen.
Je kan het op ver­schil­len­de manie­ren maken. Dit recept is nu met whis­ky, noten en wat kaneel, maar niet belet je om hier­in te vari­ë­ren. Appel met rum, peer met rozij­nen, … gebruik je inspiratie…het basis­re­cept blijft hetzelfde.
Brood­pud­ding is een ide­aal des­sert of tus­sen­door­tje. Geser­veerd met een bol­le­tje ijs, of gewoon bij de kof­fie..smul­len!
Hen je het graag wat smeu­ï­ger? Ser­veer de brood­pud­ding met wat cara­mel of vanillesaus.
Je kan brood­pud­ding best afbak­ken in een cake­vorm met anti-aan­bak­laag. Dit gaat mak­ke­lij­ker dan een meta­len versie.
Onze recep­ten­bun­del wer­den moge­lijk gemaakt door soft­wa­re van Boot­strap­ped Ventures.

Heb je dit recept zelf gepro­beerd? Of heb je een vraag of opmer­king over het recept? Laat dan een reac­tie ach­ter hier­on­der of deel het op je soci­al media.
Mis­schien heb je zelf een recept wat u met ons en onze lezers wil delen.
Voeg het dan hier toe!
HONGER NAAR MEER? Abon­neer je op onze nieuws­brief en volg ons op Facebook, Pin­te­rest en Inst­agram voor alle laat­ste updates.
Broodpudding…probeer het eens!
Voedingswaarde :
Nutri­ti­on Facts
Brood­pud­ding met whis­ky en noten.
Amount per Serving
% Dai­ly Value*
* Per­cent Dai­ly Valu­es are based on a 2000 calo­rie diet.